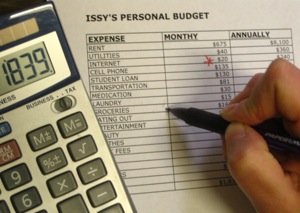 NAME: Isabelle (Issy)
AGE:  22
CITY:  New York City
OCCUPATION:  Development Assistant at a production company
ANNUAL GROSS INCOME:  $27,600 (income before taxes)
TAKE HOME PER MONTH:  $1,840  ($22,080 after taxes)
GOAL:  To learn how to manage her money & establish savings





Meet Isabelle, a recent NYU grad. When Issy first contacted us for some Fab & Fru advice, I immediately related to her story.  Twenty-two, just out of college, and trying to launch her film career in New York City…  It's no surprise that I have a soft spot for this girl!
Issy scored her first job about six months ago, and recently got the dreaded 'well, you're in the real world now honey' speech from her parents.  Though panicked, she is determined to become financially independent – somehow!  Like so many of us, Issy feels overwhelmed by the thought of managing her financial present – let alone her future.  But for a girl with no clue, she's already on the right path.  She admits she has a lot to learn and has taken action by asking us for some Fab & Fru advice.   Smart girl!
The best advice I have is pretty basic, but something that not a lot of people actually do: SIT DOWN AND CREATE A BUDGET.  If you look at budgeting as a tool to take you where you want to go in life, it can be incredibly useful.  As a producer, part of my job is to be a professional budgeter.  Believe me, it's a lot less frightening to see what you can actually afford than to live in denial and wake up one day unable to pay your rent!
A budget is a detailed outline to help you organize both the money you have and the money you need.  It is a visual guideline to help you make informed financial choices and spending decisions as well as letting you know if you have room to pull from one area of your budget in case another area falls short at any point.  A budget will help you pinpoint changes you need to make in order to support your current or intended lifestyle!




First Issy must answer a few questions so I can determine a realistic budget for her to follow…

What is your NET salary (what you take home after taxes) per month?
$1,840.00 per month.

What are your FIXED monthly expenses (expenses that stay the same)?
•    RENT:                    $675
•    UTILITIES              $40
•    INTERNET              $20
•    CELL PHONE           $135
•    STUDENT LOAN      $130
•    TRANSPORTATION  $81
•    MEDICATION          $30
•    LAUNDRY               $15
TOTAL:            $1,101
After Issy sets aside the funds to pay for her fixed expenses, she has $739 per month to spend on VARIABLE EXPENSES (expenses that change each month) like groceries, eating out, entertainment, clothes, coffee, cleaning supplies, plane tickets & whatever else may come up that has not been accounted for. Issy's main goal is to start building up her SAVINGS and to stay out of DEBT!!  If she's not careful, NYC will swallow her earnings in mere milliseconds!  Let's start by seeing how Issy spends her money, as she tracks every expenditure for one week.

Keeping Track of Your Spending
It is important to understand how and when you spend your money so you can then figure out if there is anywhere to cut.  The longer you keep a detailed record of your expenditures, the more accurate a picture you will get. Although Issy is only tracking her expenses for seven days, we recommend doing this exercise for at least 2-4 weeks to get a solid picture. There are two ways to track expenditures:
a) Write down every expenditure that you make with the date and exact amount in a notebook.  This includes credit card purchases! At the end of each week separate your purchases into categories (food, entertainment, transportation) and tally the results.
-or-
b) Get a receipt for everything you buy!  I love doing this because you can collect all of your receipts in an envelope and then tape up your expenditures by category at the end of each week.  It's visual, and it makes it easier to tally the totals so you don't have to lug your notebook wherever you go.

Here are Issy's Spending Totals for Week 1

Food:
Groceries             $40.00
3 Lunches Out      $18.00
3 Dinners Out       $45.00
2 Bottles of water  $5.00
5 Coffee/Lattes     $15.00
2 Bottles of wine   $20.00
SUBTOTAL:        $143.00
Entertainment:
Movie Ticket:       $12.00
Beauty:
Lipstick           $12.00
Laundry: $15.00
Bank Fees:
ATM Fees        $2.00
Misc.
Magazine        $4.50

TOTAL FOR THE WEEK:    $188.50!




|
Print
Pages: 1 2