Recipe courtesy of Caroline Laskow
*4 Servings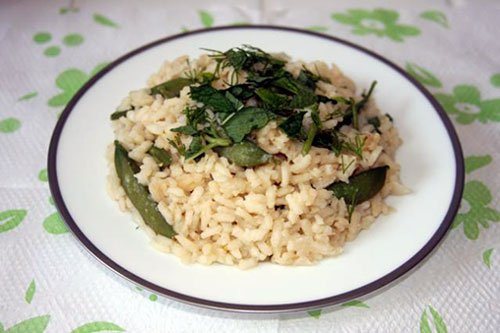 Steph's sister made this dish for her husband Ian on one of their first dates – a great recipe when you want to impress without breaking the bank!  It is also the perfect dish to serve with Jill's Spanish white wine pick – the 2006 Protocolo Blanco!
2 tbsp olive oil
6 tbsp unsalted butter
1 medium onion, diced
2 cups Arborio rice
4 cups chicken stock
2 cups sugar snap peas (or other seasonal veggie of your choice)
¼ cup grated Parmesan
¼ cup fresh mint, chopped
¼ cup fresh dill, chopped
¼ lb. Gravlax (Scandinavian herbed salmon), thinly sliced (optional)
Zest of one lemon
In a wide skillet, heat 2 tablespoons butter and the oil together.  When butter melts, add the onion and sauté over medium heat until it is very soft but not browned.  Add the rice and stir until toasted and opaque – about 3 -4 minutes.  Add the first cup of broth and keep stirring rice until liquid is absorbed.  Repeat the process 3x more, making sure liquid is absorbed before adding each additional cup.  Add the snap peas with the 3rd cup of broth.  After all of the broth is absorbed, taste the rice to make sure it is tender but not mushy.
Total cooking time is about 15 minutes.
Remove from heat, and stir in the remaining butter, cheese, and lemon zest.
Spoon the Risotto onto four plates and sprinkle with dill and mint.  Garnish each portion with a few slices of Gravlax.  Note: If you can't find Gravlax, Caroline suggests substituting cold poached salmon.
For a light meal, serve the Risotto with your favorite tossed green salad.  Though the Risotto tastes best when served fresh, we've made it in advance and it was still delish!  If you must prepare the dish the night before, just stop the recipe before you add in the final butter, cheese and lemon zest, and stick it in the fridge.  Reheat it slowly on the stovetop, adding in a little more chicken stock to keep it moist, and finish off the recipe from there.
Great news!
You can feed 4 Risotto lovers for $20 bucks! That's $5.00 per person for an elegant gourmet dish that tastes & looks like it cost far more.  A ¼ pound of Gravlax runs just about $6.00 so if you'd rather go all veggie we're talking a delicious main course for $3.50 per person!
The Bottom Line

We paid $3.20 for a box of Arborio rice, and the herbs ran us about $2.30 per packet – since you only use the mint and dill to finish the dish, you'll have plenty left over for to use in another meal. We spent  $7.00 total on the snap peas, onion, lemon, chicken stock, and Parmesan.  We are assuming that you already have olive oil and butter in your kitchen, so put them to good use and enjoy!
|
Print