Recipe courtesy of Andrew Bernheimer
*6 Servings

**Serve with Truffle Your Mashed Potatoes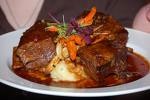 2 carrots
One celery stalk
One medium onion
2 sprigs of fresh rosemary, three or four sprigs fresh thyme
One head of garlic – skin intact and uncut, plus another couple cloves of garlic
Salt and pepper
One good bottle of $10 red wine (see Jill's suggestions)
One 32 ounce can of peeled canned tomatoes. Can be diced but just don't buy the ones with basil in them!
Short ribs – Rule of thumb is 1 to 2 per person – ask your butcher for guidance as size and meatiness varies greatly!
Preheat oven to 350 degrees.
Chop carrots, celery and onion. Finely slice two garlic cloves. Generously season short ribs with salt and pepper – make sure they are at room temperature before cooking.  Pour can of peeled tomatoes into a bowl and remove cores.
Heat a Dutch Oven (or roasting pan that you can cover tightly) until very hot, then add enough olive oil to coat bottom of the pot. Sear short ribs all over until they are very brown. Remove short ribs from dutch oven and set aside – do NOT discard juices.
Place onions, carrots, celery, sliced garlic and whole, unpeeled garlic head in Dutch Oven. Cook veggies until soft (ignore whole garlic head, which won't get soft). Add tomatoes. Cook for one minute. Add short ribs and all juices back to Dutch Oven, and pour wine over the short ribs until they are completely covered. Cook on stove until it starts boiling – reduce and simmer for 5 minutes. Add rosemary and thyme to pot.
Put Dutch Oven into 350 degree oven and bake for 2 and a half hours.
Remove Dutch Oven from stove. Remove short ribs from dutch oven to a bowl. Take out garlic head and set aside. Remove herbs and discard. Pour juices through strainer into a bowl. Try to separate carrots out as well (not easy but worth it!) Then press down on all tomatoes and vegetables to extract as much juice as possible.
Heat juices in a small pan on stove on high heat. Cook until boiling and reduce (this just means some of the liquid evaporates and the flavor intensifies) – this can take several minutes. Stir frequently – liquid should reduce by half. Reduce heat to low and season to taste with salt and pepper. Remove bones from short ribs (meat should be falling off bone at this point) and put the meat in the sauce and reheat ribs to desired temperature.
Separate and de-skin the cloves of the roasted garlic head – serve a couple roasted cloves with each serving, along with some of the veggies. Place atop Truffle Your Mashed Potatoes. Drizzle with reduced sauce and enjoy!
An added time saving bonus is you can make this the day before! If this is your plan, just pause the recipe after it has cooked in oven for 2 and a half hours. The day of the dinner just resume the recipe by heating up the whole Dutch Oven and then doing all the straining, reducing, etc.
Don't be scared off by the initial chopping this recipe requires – prep time is actually only about 45 minutes!  These short ribs are quite simple to make, and the ability to make them the day before will allow you to actually enjoy your dinner party guests as they arrive instead of being stuck in the kitchen!
THE BOTTOM LINE: Cost per person will vary depending on where you buy your meat – short ribs tend to run about $5 – $6 a pound, All in, the short ribs recipe should end up costing you about $8-$10 per person. So that gets you to $40-$60 for the recipe for 6 people: $20-$30 for meat, $10 for wine, $10-$15 for veggies, herbs, etc.
The Truffle Your Mashed Potatoes recipe will run you a total of about $10-$15 , bringing the cost for dinner to $50-$75 for a restaurant quality dinner for 6! Quite a bargain when you think that in a restaurant this would easily cost $30 per person or $180 for 6! Short ribs are an inexpensive cut of meat, and potatoes are cheap. We love this meal because in true Fab & Fru fashion, we take frugal ingredients and make them into a fabulous meal that looks and tastes like it cost a fortune!
|
Print