Recipe courtesy of Andrew Bernheimer
Who thought truffled anything would ever be Fab & Fru?
*6 Servings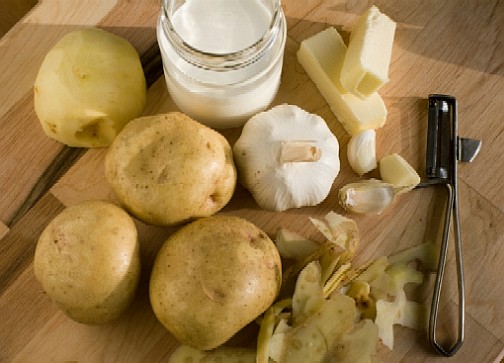 4 pounds Idaho/Russet potatoes, peeled and cut into quarters
One cup half and half
1 cup of butter
Truffle Oil to taste
(You can use either black or white truffle oil, but just start with a tablespoon and then add more to taste so you don't overdo it! The beauty of truffle oil is that while truffles themselves are insanely expensive, you can get a bottle of truffle oil at Trader Joe's for about $10!)
Cook potatoes in large pot of boiling salted water until very tender, about 20 minutes. Drain. Return potatoes to pot. Stir over medium heat until excess moisture evaporates, about one minute. Remove from heat and mash them up!
Add half and half, butter, and truffle oil. Stir until smooth. Season to taste with salt and pepper.
You can serve immediately or cover with saran wrap and refrigerate overnight. To reheat, add additional milk and possibly some oil (to taste) and warm slowly over the stove.
*We've pegged this recipe as the perfect compliment to our Short 'On Cash' Ribs, but you can make this delicious side dish with any meat, chicken, or pork dish.  That bottle of truffle oil will last you quite awhile so the cost of this dish will gone down each time you whip it up!
|
Print