Steph & I first heard about the legendary Mr. Brisket back in college from our meat-loving friend Miah.  Now a bonafide barbecue master, Miah learned his skills when he worked for the Cleveland based Butcher in high school. So, when it came time to find a Fab & Fru butcher to give us tips on what's best to cook during the holidays, we knew exactly who to turn to for advice!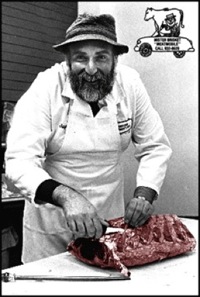 Frozen vs. Fresh
It makes NO difference.  Quality meats are frozen fresh.  What's important to look for is the GRADE A rating.
You can most likely get a better deal on a frozen bird, plus it gives you the added convenience of buying it in advance.  Just be sure to check with your butcher to see how long the bird you choose will take to defrost – general rule of thumb is about 24 hours for each 4 – 5 pounds of bird in a 40 degree fridge.
Which Brand Should You Pick?
Mr. Brisket's favorite Thanksgiving turkey is Empire Kosher.  See if your local supermarket carries it and order now! And remember - don't salt it.  They've already done that for you!
If you can't get an Empire Kosher, most Grade A birds will serve you well.  Beware of the brands that inject the turkey with lots of salt, sugar, and other chemical additives.   You're being charged extra for all those chemicals and they don't add much to the taste.
Bone to Meat Ratio
Turkeys have a large bone to meat ratio so always get the bigger bird if you want to ensure you'll have enough turkey to serve.
Crispy Skin- A tip for all poultry
Leave the turkey uncovered for 2 days in the refrigerator.  Just make sure you keep the raw bird from touching the rest of the food in there.  Uncovering poultry dehydrates the skin allowing it to get extra crispy while roasting in the oven.
For Tips on Cooking Your Turkey visit www.misterbrisket.com. Mr. Brisket also delivers tasty gift baskets and, of course, Brisket, anywhere in the USA! Call Mr. Brisket at 1-877-274-7538 for more info.
|
Print