Recipe Courtesy of Denise Sheehan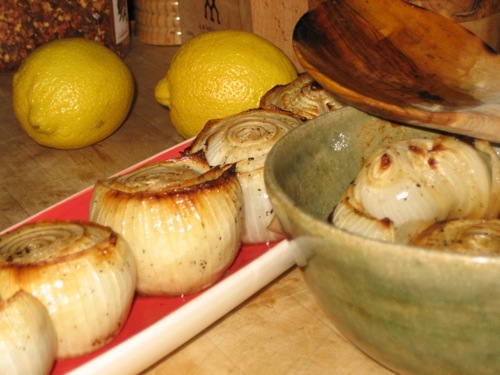 These are much lighter and more flavorful than old-fashioned creamed onions!
Ingredients:
1 bag small onions (not pearl onions, just the small yellow ones that come in a mesh bag) peeled but left whole
½ stick butter, cut into pats
Salt and pepper
Grated nutmeg
Semi-dry sherry, such as Amontillado (in a pinch you can substitute white wine for the sherry)
Instructions:
Put peeled onions in casserole dish – if tops were cut off when peeling, put the cut side up so the flavors enter the onion.
Place a pat of butter on each onion. Generously pepper, add salt to individual taste. Sprinkle some nutmeg on – approx ¼ teaspoon.
Pour 1/3 cup sherry over the onions.
Cover and put in oven for about 30 minutes or until bubbly.  Uncover when they begin to bubble and let them cook until brown and fragrant.  Take them out of the oven and let them rest, covered, if they seem to be getting too dark.
If you don't have sherry at home, speak to your local wine shop – they can usually find a less expensive producer or recommend a half bottle.  Since you are only using 1/3 cup, your cost for the wine used in recipe will be about $2.00.  Enjoy the rest for cold weather sipping!
|
Print