Recipe Courtesy of Danielle Goldstein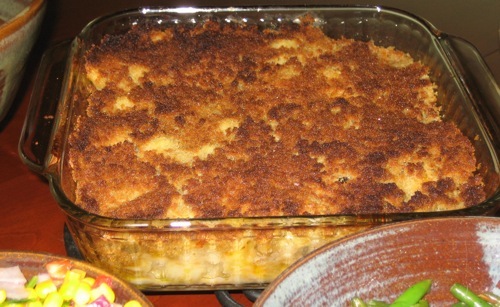 Ingredients:
1 16 ounce box elbow macaroni
4 cups shredded cheddar cheese
2 cans Campbell's Condensed Golden Mushroom Soup
1 ½  cans (use the soup can) milk
1 stick butter
Plain bread crumbs (approx. 2 cups)
Instructions:
Boil macaroni and drain.  Place in a 13x9x2 inch casserole.  Set aside.  In saucepan, heat soup and milk until it thins out some.  Add shredded cheese a little at a time, stirring frequently until cheese melts.  Pour mixture over macaroni and stir to combine.  (You may have more sauce than you need) Melt butter.  Add bread crumbs to melted butter until it has a crumbly consistency.  Spread over top of macaroni mixture in a casserole.  Bake for 30-45 minutes at 350. The mushrooms add a delicious twist on an old favorite – one adults and kids will both love!
|
Print