Mrs. Sheehan's Sherried Baked Onions
Recipe Courtesy of Denise Sheehan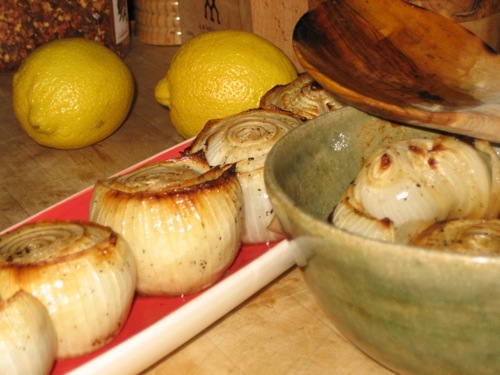 These are much lighter and more flavorful than old-fashioned creamed onions!
1 bag small onions (not pearl onions, just the small yellow ones that come in a mesh bag) peeled but left whole
½ stick butter, cut into pats
Salt and pepper
Grated nutmeg
Semi-dry sherry, such as Amontillado (in a pinch you can substitute white wine for the sherry)
Put peeled onions in casserole dish – if tops were cut off when peeling, put the cut side up so the flavors enter the onion.
Place a pat of butter on each onion. Generously pepper, add salt to individual taste. Sprinkle some nutmeg on – approx ¼ teaspoon.
Pour 1/3 cup sherry over the onions.
Cover and put in oven for about 30 minutes or until bubbly.  Uncover when they begin to bubble and let them cook until brown and fragrant.  Take them out of the oven and let them rest, covered, if they seem to be getting too dark.
If you don't have sherry at home, speak to your local wine shop – they can usually find a less expensive producer or recommend a half bottle.  Since you are only using 1/3 cup, your cost for the wine used in recipe will be about $2.00.  Enjoy the rest for cold weather sipping!
————————————————————————————————————
Colleen's Spicy Green Beans
Recipe Courtesy of Colleen McMahon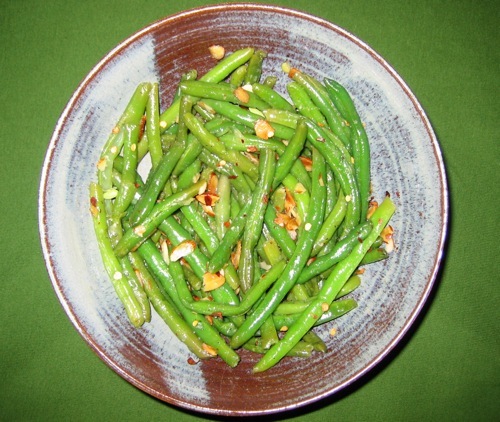 2 lbs green beans
6 tablespoons butter
2 tablespoons Hot Chili Flakes
Salt and Pepper
Slivered almonds (optional)
Wash beans and cut off ends.  In frying pan add butter on med high heat and add chili flakes once butter is melted.  Add beans and continue to toss until beans are cooked but still firm (bright green but still have a snap). We added some slivered almonds, but the dish is just as delish without them.  Season with salt and pepper and serve.  Added bonus – can be served hot or at room temperature!
————————————————————————————————————
Nanny's Turnip/Carrot Mash
Recipe Courtesy of Natasha Price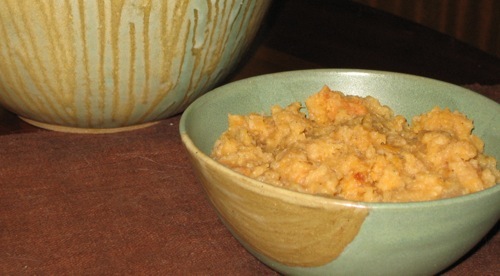 A yummy alternative for those who don't like sweet potatoes – it will leave your house smelling scrumptious!
One large turnip peeled and cubed (or several little ones)
One bag baby carrots, cut carrots in half
2 tablespoons butter
2 tablespoons brown sugar
Cinnamon for sprinkling, if desired
Boil a pot of water.  Put cubed turnip and halved baby carrots in water.  Cook until tender.  Drain water.  Mash the turnip and carrot together like you would potatoes.  Add butter and brown sugar and mix well.  Sprinkle with cinnamon (optional) and serve!
————————————————————————————————————
Colorful Corn Relish
This is Ivy Choderker's favorite side dish – it has been adapted from The Thanksgiving Cookbook and is a festive addition to any buffet!
Two 16-ounce cans whole kernel corn, drained
One small red onion, diced
1 red bell pepper, diced
¼ cup chopped fresh parsley (we used the leftover parsley for our Fab & Fru centerpiece!)
2 tablespoons vegetable oil
Salt and pepper to taste
Mix corn, onion, bell pepper and parsley in a bowl.  Add vinegar and oil and mix until blended.  Season with salt and pepper.   Put in a container with tight fitting lid and refrigerate until ready to serve.
————————————————————————————————————
Mushroom-y Mac & Cheese
Recipe Courtesy of Danielle Goldstein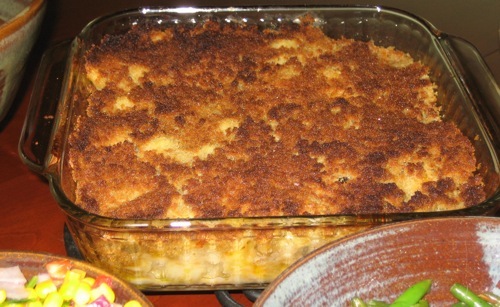 1 16 ounce box elbow macaroni
4 cups shredded cheddar cheese
2 cans Campbell's Condensed Golden Mushroom Soup
1 ½  cans (use the soup can) milk
1 stick butter
Plain bread crumbs (approx. 2 cups)
Boil macaroni and drain.  Place in a 13x9x2 inch casserole.  Set aside.  In saucepan, heat soup and milk until it thins out some.  Add shredded cheese a little at a time, stirring frequently until cheese melts.  Pour mixture over macaroni and stir to combine.  (You may have more sauce than you need) Melt butter.  Add bread crumbs to melted butter until it has a crumbly consistency.  Spread over top of macaroni mixture in a casserole.  Bake for 30-45 minutes at 350. The mushrooms add a delicious twist on an old favorite – one adults and kids will both love!
|
Print