Recipe Courtesy of Melba Muñoz-Rivera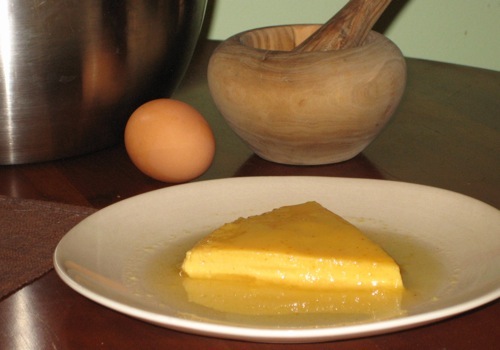 Flan is an elegant dessert that looks like it costs a bundle – but we bring it to you for under $10!  Give it a try for an upscale take on traditional pumpkin pie.
Ingredients
1 can pumpkin pie filling
1 can evaporated milk 1 can condensed milk
5 eggs
1 cup sugar (for caramel)
1/4 cup water (for caramel)
1 teaspoon vanilla extract
Directions
Preheat oven to 350 degrees.
Mix vanilla extract, pumpkin, and the two milks together, then add the eggs one by one – stir until smooth.
To make the caramel – combine sugar and water in a pan and mix together over medium/low heat until the sugar is caramelized, having a light brown color.  This takes about 15 minutes.  Make sure not to burn the mixture – nobody likes a bitter tasting flan!
After the caramel sauce is done, pour into a shallow mold or casserole, any shape is fine.  Let it cool (we stuck it in the fridge) until the caramel hardens a bit and adheres to the mold.  Then pour the pumpkin batter on top of it, and place inside a larger pan you have filled with 2/3 water.  Bake for 50-60 minutes at 350 degrees.  Flan is done when you insert a knife and it comes out clean.  (By the way, we found the batter in this recipe was enough for two flans!)
Let cool on counter for about ten minutes, then cover and refrigerate.  This should be made at least several hours in advance to give it a chance to chill and set.  We suggest making it a day in advance to make your life a little easier!
To serve, hold the flan in a bath of steaming hot water for 15 seconds – this will help get it out of the mold more easily.   Gently run around edges of flan with a butter knife, and turn upside down – then flan should (famous last words) easily slide out onto serving platter .
Neither Steph nor I had made flan before we tried out Melba's recipe, and we are happy to report that on our first try we were able to get it out of the mold in (almost) one piece… And I have to say, our flan tasted like we had bought it at a high-end pastry shop!  We liked it so much that we each decided to add it to our own Thanksgiving dinners this year.  Melba, we are giving thanks to you for this very Fab & Fru recipe!
|
Print