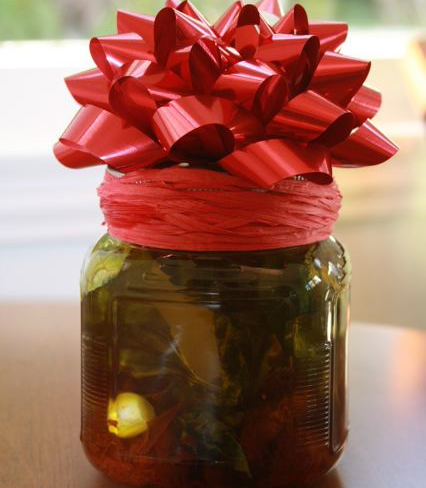 A Taste Bud Delight
One universal tip for the holidays – PLAN AHEAD!  Whether you're shopping for gifts or getting crafty and making them yourself, take time to organize your gift giving list as well as the money you have to spend. Planning ahead will save you money, help you stick to your budget, and might even relieve a little stress so you have more time and energy to enjoy the parties!
This impressive and delicious gift is the mastermind of our friend Claire.  The oil needs to marinate for at least a few weeks – prepare now and it will be ready in time for the holidays!  In about 45 minutes, you can have six jars of gourmet bliss for a fraction of what it would cost to buy in the store!
*This easy personalized seasoned oil is perfect for dipping bread or putting over pasta!
*Makes 6 fantastic gift jars for under $10 each!
Supplies & Ingredients:
6 -Quart size mason jars: approx $10 for 6 jars
*You can find the best deals on jars at the hardware store or order them online. In a pinch, you can also find them at most stores that sell kitchenware.
1 -Gallon of Extra Virgin Olive Oil: approx $25 (check for sales)
5 lbs of Sun Dried Tomatoes: $3 per lbs (total $15)
*The dehydrated sun dried tomatoes are just as good and save you cash!
3 Entire Garlic Bulbs- $3
1 Bunch of Fresh Basil- $2
6 gift tags w/ ribbon: $3
Bring the pot of water to a rolling boil.  Take off heat and put all of the dehydrated sun dried tomatoes into the water and let soak for 10 minutes then pat dry.  (If you decided to use fresh sun drieds, you can skip this step).
While the sundrieds are soaking, peel the garlic bulbs and line up your mason jars – lids off.  Divide your ingredients equally for each jar.  Depending on how garlicky you like it, Claire suggests putting in about ½ a bulb per jar.
Claire finds that it's best to fill each jar ¼ of the way with the oil and then stuff them equally with sun drieds, garlic, and basil a little more than half way.  Top each jar off with olive oil. Make sure that the oil covers the tomatoes totally and then let them marinate in the fridge for 4 to 6 weeks.  Tie a ribbon or tag around each jar, and Voila!
**If you give the sun drieds as a gift before they are in their prime, just let the recipient know to wait before serving.
Total Cost: $58.00– That's under $10 per gift for a homemade personalized gourmet delight!
|
Print