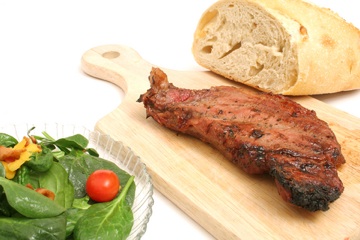 Hosting a holiday dinner can leave your belly full — and your wallet empty!  However, our Fab & Fru go-to butcher Mr. Brisket has some great news!
Generally speaking, beef prices are lower this season than they have been in several years! And it's not just beef that's a bargain — Mr. Brisket's favorite buys of the moment include:

USDA Prime Strip Steaks $10.95 per pound-down $4 from last year!

Long Bone Veal Chops  $16.95 per pound-down $3 from last year!

Mr. Brisket's Favorite Empire Turkeys $2.99 per pound-down a buck from last year!
We had a question for Mr. Brisket — How do you pick the best beef? Discount cuts aren't a bargain if they don't taste delicious, right? Mister Brisket says to look for the 'USDA Prime' mark.   Sure, we've all seen it before, but what does it actually mean??   USDA Prime suggests that you'll be getting the most flavorful, well marbled, top quality cut that money can buy!
For more delectable tips be sure to check out www.misterbrisket.com, and see what the pride of Cleveland has to say!
|
Print