A Guide to Giving Your Wardrobe a Little Nip Tuck
By Melissa B. Miller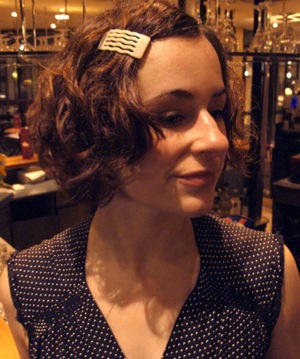 Does your ankle length bubble coat make you look like you're wearing a sleeping bag? Are those kitten heels driving you nuts?  Not feeling the dress-over-jeans look anymore?
Don't despair – you don't need big bucks to give your wardrobe a major overhaul!
One of my favorite secrets for living in the Big Apple on a budget is turning the old into something new!  Not only is recycling and revamping your own clothing inexpensive, it is also eco-friendly and can be a fun creative project.  So before you shell out dough to buy new duds, re-visit what you have and see how you can cheaply and chic-ly update your style.

Here are some ideas that have worked for me

To update a long puffy bubble coat and make it more feminine, try shortening it to ¾ length and adding a border on the bottom.  I brought my winter coat and a vintage pair of suspenders to my local tailor, and for under $50 he shortened my jacket and added the trim giving my old bulky parka a fashionable edge and giving me a brand new warm fun winter look!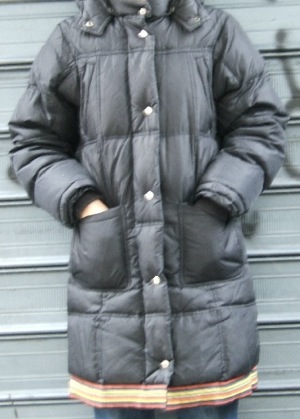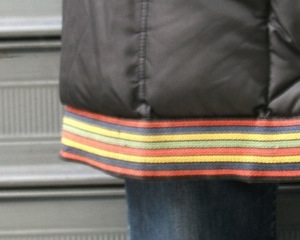 Never loved the heel on those expensive boots sitting in your closet?  Change it!  I asked my local shoe repairman if there was anything I could do with the heel on my boot?  All of a sudden, I had ten different heels styles put in front of me to choose from, and I went from a kitten heel to a cowboy style look (plus a shoe shine) for under $40 bucks!  Not only did I make my pricey pair of boots more comfortable and durable, it was WAY less than the cost of a new pair!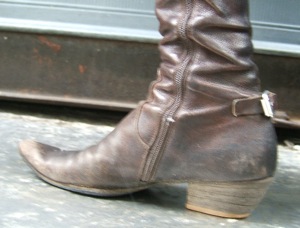 Inspiration is everywhere: magazines, city streets even other peoples' closets!  I was recently out with a friend who was wearing a beautiful boho peasant top.  I liked the look and thought about what I had at home.  After sifting through everything, I came upon a knee length dress with a cool vintage pattern that I'd typically worn over jeans –one too many times.  I knew the pattern would work with the look that I was going for, and I got out my scissors and went to work!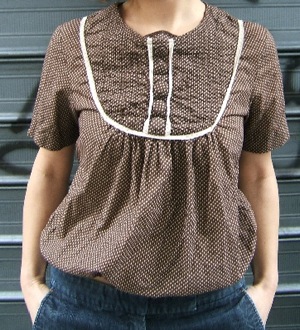 You should know that I am not a seamstress or a fashion designer!!  Believe me, tweaking your old clothes is easier than it sounds!  If you really can't deal with getting crafty, having a tailor do the dirty work for you is most likely cheaper than buying a brand new item. But if you embrace the do-it-yourself frontierswoman in all of us, I think you'll be surprised at how easy this is. (Editors note: We figure if our forebears could give birth in covered wagons going over the icy prairie, surely we can try hemming a shirt while watching a rerun of Will and Grace!)
Follow these steps to turn a dress into a peasant blouse!

Take a measuring tape and measure from your neck to your waist, then give yourself another 5" of slack to play with.

Turn the garment inside out to hide the stitching.

Turn over the end of the garment to create a ½" loop.

With a needle and thread (sewing machine is preferable but you work with what you got) sew the edge of your fabric to itself, securing the loop.

Cut a small slat on either side of your loop (this is where the elastic will go)

Take a piece of elastic that is double the size of the width of your garment (this is in order to get the cinch effect later on).  Find a medium sized safety pin and pin it to the edge of your elastic (this will be    your guide through the garment)

Feed the safety pin through the slat you created and inch it through your loop until the elastic is all the way through.

Finally, tie the elastic at the desired length (more or less cinch) and your done!  If you don't have the patience or the time, most local tailors or shoemakers can help you achieve the change you desire.

* So, before you throw out the power suit with the shoulder pads… see if you can re-vamp it or re-do it in order to re-new it!

**Melissa B. Miller is a filmmaker with a love for fashion design (or perhaps it's the other way around?).  She's constantly thinking of ways to combine her passions and believes you should always put your own personal stamp on whatever you do.  She's based out of New York City and is a partner in the production company Shoebox Pictures.
|
Print