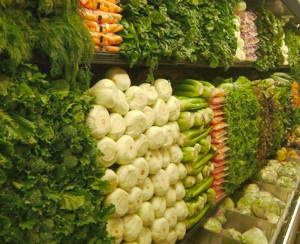 We've been doing some research and found some delish Fab & Fru news for all of us health conscious gals! Read on for some simple tips on how to eat organic without eating a hole in your wallet.
Of course no one finds the idea of ingesting pesticides along with your morning fruit appetizing.  We'd much rather buy everything organic — if we could afford it…  But we're certain that even Oprah would cringe at the idea of spending $6.00 for an avocado!
*Food for thought:  you don't need to go into debt to improve the quality of your diet!





Why Buy Organic?
So, what makes organically grown food so much better for you & sooo much more expensive in the first place?  Is there really more that goes into getting an 'organic' label than just clever marketing?  The answer is YES!  Organic foods are grown without the use of chemical pesticides, antibiotics, growth hormones, herbicides, or fertilizers that are commonly found in conventionally grown fruits, vegetable, dairy products, and meats.
You'd think that something with no added chemicals would cost less?  But the truth is that those chemicals often are used to ensure farmers that their crops and animals will reach maturity without being eaten by insects or killed from disease.  Because they do not use the chemicals that the large conventional farms use, Organic farms are at higher risk to lose their crops.  Additionally, they are typically smaller farms that produce less.  As a result, we pay the price for chemical free food!

All or Nothing?
You don't have to take an all organic-or-nothing approach when grocery shopping! It's just a matter of knowing where organics are actually worth the splurge and where conventionally grown food will do…
According to research studies by the Environmental Working Group (EWG), not all conventionally grown foods have the same pesticide exposure.  This is good news for our peace of mind and our bank accounts!
EWG came out with a handy list called 'The Dirty Dozen' – the most pesticide contaminated conventionally grown produce on the market!  Sadly, many of our faves made this list.  But they have also listed a dozen fruits & veggies conventionally grown with a significantly lower concentration of chemicals that are much safer to eat.

Shopping is overwhelming as it is, so jot down this list and keep it in your wallet so you have a reminder of the Dirty Dozen when choosing which organic produce to purchase!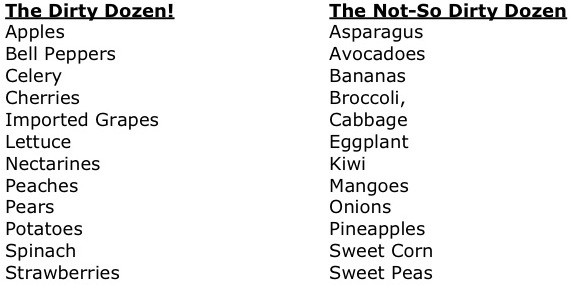 |
Print
Pages: 1 2