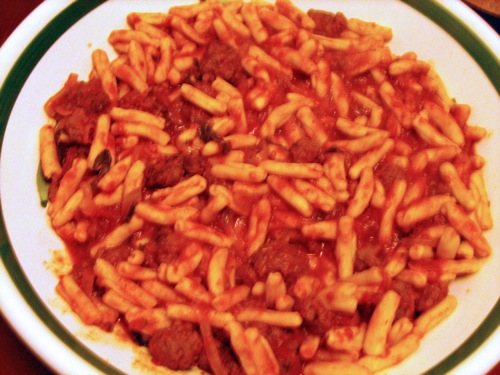 Coat the bottom of a large deep pan with olive oil and heat over a low flame. Thinly slice one onion. Toss onion into the oil and slightly turn up the temperature.  Chop 4-5 large cloves of garlic. When onions begin to turn transparent toss in garlic. Roughly chop a handful of fresh basil and add it to the mixture. Add a hearty dash of red pepper flakes. Stir continually so garlic doesn't burn (this will make your sauce bitter). Sautee mixture just until onions and garlic begin to slightly brown.
Add one can of Italian Spiced Tomato Paste, stir together. On low heat continue stirring for 5 minutes (make sure it doesn't burn). Add a large can of whole tomatoes and mix all together. Mash or cut up tomatoes while stirring. Add a large can of pureed tomatoes and stir well.
Over medium heat, constantly stir, and add a quarter cup of red or white wine. If you don't have wine add a capful and a half of balsamic vinegar. Add a hearty sprinkle of sea salt and black pepper, stir it in. Allow to cook for a 10 minutes without a lid, taste and determine if you need to add sugar. Adding sugar curbs the bitterness of the tomatoes.  Add sugar to taste (from one tablespoon to 1/8 of a cup) gradually so it doesn't get too sweet.
Add more fresh basil and red pepper flakes to taste.
Lower the flame, put on the lid of the pan leaving a little corner open so air escapes. Stir every 5 or 10 minutes. Let it cook for at least 45 minutes, then put lid on all the way and let it sit 15 minutes with the heat off. Serve when ready. You can make sauce the day before (tastes better the next day anyway).
Boil water in your largest pasta pan. Add salt. Use a cavatelli, rigatoni or penne. By using a short pasta, you will get more mileage out of your sauce and therefore feed more people.  Spaghetti and other long pastas absorb more sauce so you'll feed less people. For the amount of sauce in this recipe, you can make up to 2 lbs of pasta.
This is a good amount for 6-8 people. If you're making less pasta, you'll have leftover sauce to freeze.  This sauce freezes well and keeps for several months.  Put in air tight container and wrap well.  You can freeze individual servings or larger amounts.
As the water's boiling turn the sauce back on.
Put pasta back into the pan and ladle in some sauce to taste, and stir so the pasta doesn't stick together.
Serve and ENJOY!
|
Print