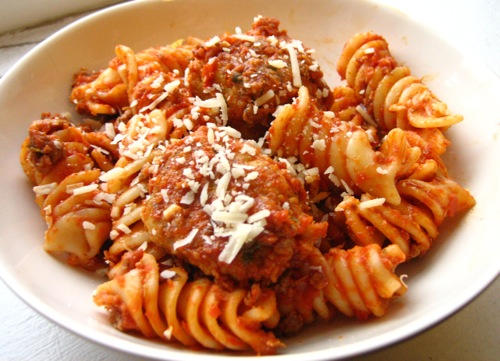 Ingredients:
* Olive Oil
* Black Pepper
* Sea Salt
* 1/2 Medium Onion
* 2-3 cloves of garlic
* 1/2-1 cup of Plain Bread Crumbs- $1.69
* 1/2 cup of Fresh Parsley- $1
* 1 1/2 lbs of Ground Turkey (feel free to substitute ground chicken, beef, or lamb)- $6.00
* 1/2 Cup Grated Parmesan Cheese
Any ground meat will work (beef, turkey, chicken, veal, pork).
Instructions:
Take 1 1/2 lbs of meat and place in a large bowl. Finely mince half a large onion and two to three cloves of garlic. Chop half a cup of fresh parsley and add to meat. Add half a cup to one cup of plain breadcrumbs, sea salt and black pepper. In a separate bowl beat 1 egg and add to meat. Squish everything together. If the consistency is sticky then move on, if it still isn't sticking together add another egg and breadcrumbs until you reach desired consistency. When sticky, add 1/2 cup of grated Parmesan and thoroughly mix in. Roll meat into 1 1/2 inch wide balls.
Take a large frying pan or skillet and cover the bottom with extra virgin olive oil and heat.  At medium high flame brown the outside of the meatballs but do not cook them all the way through (about 10 minutes). Once browned, you can add the meatballs to the pot of marinara sauce as it's cooking (not recommended with chicken or turkey since it affects the taste of the sauce) and let them finish cooking in the sauce.  Otherwise add two-three ladles of sauce into the skillet.  Lower the heat to very low, put on the lid completely, they will steam the rest of the way. Let cook for another 10 minutes (making sure they don't stick to the bottom of the pan), cut into one of the meatballs and make sure they are thoroughly cooked.
|
Print