Stock Up To Save!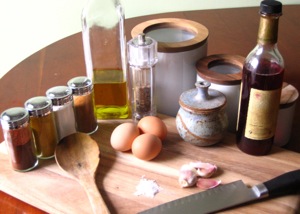 A Fab & Fru Kitchen means always having quality basics on hand to whip up delicious and affordable meals right in your own home.  As we always say: Being prepared saves you money. If you order in less you'll not only spend less but chances are you'll eat healthier too!

Out with the Old
Check the expiration date on all condiments, cans, boxed food and perishables in your kitchen and throw out the expired ones!  Take note of what you don't use often, and don't replace it.  If a recipe calls for it in the future, buy only what you need.  No one likes the idea of wasting food!

Spices
Spices keep their flavor for about six months (salt, peppercorns, or chili pepper flakes last much longer).  So, when purchasing dried spices, buy them in smaller quantities unless you use a lot of a particular spice.
In my opinion, Dried Basil, Parsley, and Cilantro/Coriander are virtually tasteless.  When it comes to these herbs it's worth the splurge to always buy fresh.  Better yet, grow your own – check out ourgardening article for more info!  Don't worry, city dwellers – all you need is a window sill or fire escape for your "herban" garden.  By having tasty seasonings on hand, you'll always be able to turn basics like eggs, rice, veggies and pasta into a mouthwatering meal that rivals your favorite take out food – without the MSG!

To Cook & To Clean
The best and most affordable cleaning supplies are also kitchen staples: White Vinegar and Baking Soda!  To clean everything from your vegetables to your bathroom floor, dilute white vinegar with water and go.  Baking soda is also a household wonder.  It's mildly abrasive so it's great when you need to scrub something – including brushing your teeth.  With vinegar on hand, you're always able to whip up a delish salad dressing or marinade, in addition to washing your windows!
STOCK UP WITH

Dried Spices
Coarse Sea or Kosher Salt
Fine Kosher Salt (a salt grinder can be used to grind the coarse salt if needed)
Whole Black Peppercorns & Pepper Grinder
Ground Cayenne
Red Pepper Flakes
Ground Cumin
Cinnamon (ground or sticks)
Bay Leaves
Chili Powder
Curry Powder
Whole Nutmeg (to grind)
Dried Oregano
Dried Thyme

Legumes & Grains
Rice (White or Brown)
Quinoa or Bulgur
Rolled Oats
Dried or Canned Beans (kidney, black, chick peas; dried beans are cheaper and preservative free.  Using dried beans instead of canned allow you to use the exact amount you want without letting the rest of the can go to waste.  If you don't have time to soak your beans overnight, you can always boil them for 4 minutes and then let them sit in the hot water for an hour before draining)
Dried Lentils
Almonds, Pecans, or Walnuts

Oils & Condiments
Extra Virgin Olive Oil
Vegetable Oil
Balsamic Vinegar
White Vinegar (to cook & clean)
Dijon Mustard
Soy Sauce
Mayonnaise
Almond or Peanut Butter
Honey

Dairy
Milk
Plain Yogurt
Butter
Eggs
Block of Parmigiano-Reggiano for grating
A block of hard cheese of your choice

Produce
Lemons
Garlic
Spanish or Yellow Onions
Potatoes of your choice for roasting or soups
All other fruits & veggies buy as needed

Freezer Items
Frozen Chopped Spinach
Frozen Peas
Frozen Corn
Chicken Breasts
Cleaned Medium Shrimp

Canned/Boxed Goods
Boxed Chicken or Vegetable Stock (Refrigerate after opening)
Canned Tuna in Water
Canned Tomato Paste (or tube of tomato paste)
Canned Whole Tomatoes
Canned Tomato Puree
Cereal of Choice

The Rest
Loaf of Bread
Plain Bread Crumbs (can make from toasted bread)
Long-Cut Pastas
Short-Cut Pastas
All-Purpose Unbleached Flour
Baking Soda (For baking & cleaning)
White Sugar
Brown Sugar
Coffee
Tea
A bar of dark chocolate
With these key ingredients, you can easily throw together a Fab & Fru breakfast, lunch or dinner.  It pays to be organized – no more looking in your fridge and wondering what on earth you're going to have for dinner!  By changing your eating patterns and ordering in even a few times less per month than you normally would, you'll start to see a delicious amount of savings adding up!
|
Print