Tips for Brides on a Budget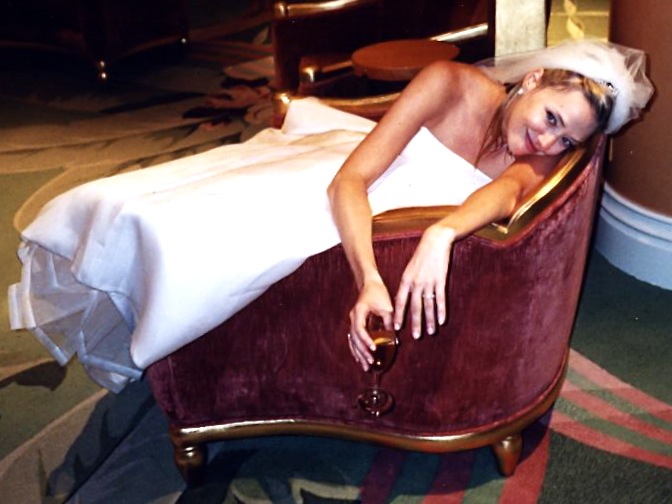 Calling all Budget Conscious Brides! If you're planning a wedding this year, chances are you are fretting about how to make it fabulous with limited finances.  You may not have the best financial timing, tying the knot during the worst recession in decades, but love doesn't cost a thing, right?  Don't worry: your big day can still be spectacular without spending serious cash!  Event planner extraordinaire Mikki Kane shares some simple ideas that will help you get the most bang for your bridal buck. (That's Mikki pictured above relaxing at the end of her own wedding!)






Do Yourself a Favor
I had the pleasure of working with Mikki on my own wedding, and one thing she stressed to me was that personal touches are what really make the day special!  Though wedding magazines may make you feel every detail has to be glamorous and professionally executed, Mikki says it's the homespun additions that are most memorable – not to mention the most cost effective!
For instance, my dear friend Vittoria made all the party favors for my wedding as her gift to me.  She took the time to pick out beautiful paper to match my invitations, monogram them with our initials, and make exquisite pouches with Jordan almonds in them for all my guests. It was one of the most touching wedding gifts I received, not to mention one of the most beautiful.  On a similar note, one of Mikki's favorite brides, who is well known for her baking skills, is giving out tins of her famous praline cookies along with the recipe as a gift to her guests.

If The Shoe Fits
Before you splurge on Manolo Blahniks for your big day, answer this: will you even be able to see your shoes under your dress?  If the answer is no, then let me suggest that shoes that cost as much as your monthly rent are not the best investment right now.  My friend Tamar had the most beautiful wedding gown and under it – surprise – high top sneakers! This was one of my favorite bridal footwear choices – you couldn't even see them under the dress and she was by far the most comfortable bride I have ever seen dancing the night away!

Have your Cake and Eat it Too
I admit it – I am one of those crazy dog ladies that really wanted my canines to be at the wedding.  Luckily, everyone I know talked me out of this… However, I managed to find a delicious way to make sure Snowy and Pico were represented at the wedding.  The answer came in the form of a non-traditional wedding cake from my local Albertson's grocery store!  I got two fabulous 'photo' cakes, each with a picture of my beloved pets on it.  I got to have my dogs at the wedding (sort of) and have my favorite white buttercream cake.  Believe me, it was a tasty bargain at under $50.00 per cake!  If you are a more traditional bride, let me assure you that many grocery chains also have beautiful flowered and tiered cakes for a fraction of what fancy bakeries charge.
|
Print