Trim Your Budget & Your Waistline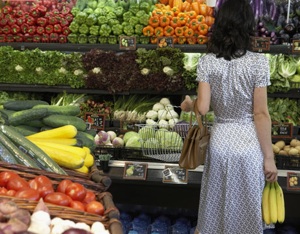 If you are not fully focused and armed with some fierce self-control, grocery shopping is the number one consumer activity that can bust your budget and your diet before you even hit the checkout line.  Personal Trainer and Holistic Health Counselor extraordinaire, Christine Boutross has shared with us her top ten Fab & Fru grocery shopping tips that will not only help you save some cash, they will help you make healthier food choices too!





Never shop without a shopping list! It takes a few extra minutes, but planning ahead for the week will save you big time and help make better food choices!  Think about your schedule for the week to come.  How many nights do you plan on cooking dinner at home? What about breakfast, snacks, and bringing your lunch to work?  Are your Pantry Basics fully stocked?  On the weekend look over the store circulars to see what fruits, vegetables and meats/fish are on sale. From there, plan your weekly meal menu around the sales.  Before leaving the house, create a shopping list for ingredients you need and stick to the list!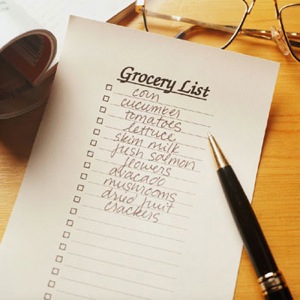 Never shop on an empty stomach! Shopping after you've eaten a meal or a protein snack will help you stick to your list and control your craving to buy any extra treats.

Leave the kids at home?! Kids always get us to buy foods that we don't want to buy! If you'
re shopping with your kids, be sure to bring your own snacks and a fun toy from home to keep them occupied so you can avoid spending the inevitable extra cash on snacks or must have items just to keep them entertained.

Be cautious with coupons. Most coupons are for processed food. If you're trying to stick to a healthier more holistic diet, be aware that it is rare find a 'manufacturer'
coupon for fresh vegetables, fruits, whole grains, meat, fish, etc. Fill your shopping cart with whole foods first, and you just might save money and calories by cutting out the junk! **Note: Buying in season fruits & veggies will help save on produce costs.

Comparison shopping: Know the prices of items that you buy on a regular basis at several stores.  Sales are one thing, but if you know where the consistent best deals are for your favorite staples, it will save you time and money in the long run having done the research.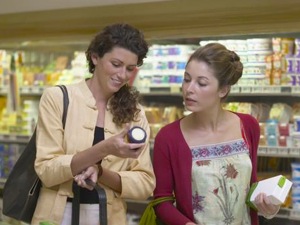 Avoid pre-washed & pre-cut produce. You'
d be surprised how much you can save by just washing and cutting up your own fruits & veggies.

Shop store brands. Store brands may not look as glamorous as the name brand name packaging that catches your eye at first glance, but the quality and taste of these products are often equal to their fancier dressed counter parts.  On your next shopping trip, try a store bought brand.  By doing some comparison shopping and taste testing, you'
ll know where the true savings are hiding.  *Note: many of the large grocery chains are now selling their own organic lines too!

Buy dry pantry staples in bulk. You can often save if you buy rice, dry beans and pasta in bulk.  These items have a long shelf life, and to keep them fresher longer, just store them in airtight containers or jars.

Don'
t buy household supplies at the grocery store! The big warehouse stores such as Costco, BJ's and Sam's Club offer much better prices on your household items (such as toilet paper & cleaning supplies) than your local supermarket. Avoid spending extra for these items at the grocery store and buy in bulk separately!

Don'
t linger in the supermarket. Studies have shown that the longer shoppers are in the store, the more they spend! So grab your stuff and run!




**Christine Boutross is a Personal Trainer & Holistic Counselor in New York City.  For more information on her practice or to make an appointment visit www.journeytohealthwellness.com or email her atcboutross@verizon.net.
|
Print