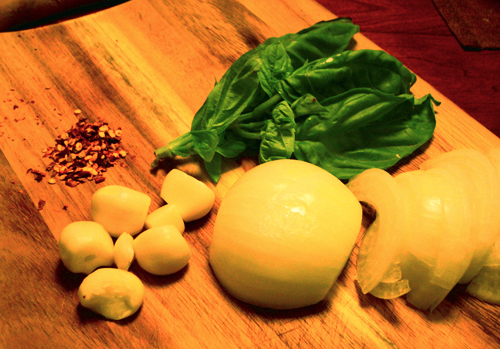 Here's a Fab & Fru feast that serves 6-8 people for under $25 bucks! Whether you're having a dinner party, feeding the family or stocking your freezer, these Coletta family recipes are not only mouth watering, they're recession proof!
Recipes included: Marinara Sauce, Turkey Meatballs & Arugula Salad

Ingredients & Price List
If you like to cook (at all), your kitchen is probably already stocked with olive oil, eggs, black pepper, salt, sugar, and red pepper flakes (check out what a well-stocked Fab & Fru kitchen should have inPantry Basics).  If you've just starting exploring your culinary talent or you've run out of an ingredient, you may have to invest a few extra dollars.
We've laid out the recipes in an orderly fashion (well, as orderly as we get) so when serving time comes everything is done, hot, and ready to eat.
** The two stars next to an ingredient means it's used in more than one recipe.
Marinara Sauce
Olive Oil**
Black Pepper**
Sea Salt (but regular will do the trick)**
Sugar
Red Pepper Flakes
1/2 Cup of wine or 2 capfuls of Balsamic Vinegar (whichever you have)
4 Cloves of Garlic— (Garlic Bulb)- $0.60**
1 Medium Onion— (buy 2 Onions- you'll need one for meatballs too)-$1.25**
Italian Spiced Tomato Paste-$0.70

Large Can of Whole Tomatoes- $1.60
Large Can of Pureed Tomatoes- $1.60
10 Large Fresh Basil Leaves- $1.30
A Block of Parmesan Cheese For Grating (to serve on the table with the pasta)-$4.00**
Turkey Meatballs
Olive Oil**
Black Pepper**
Sea Salt**
1/2 Medium Onion**
2-3 cloves of garlic**
1/2-1 cup of Plain Bread Crumbs- $1.69
1/2 cup of Fresh Parsley- $1
1 1/2 lbs of Ground Turkey (feel free to substitute ground chicken, beef, or lamb)- $6.00
1/2 Cup Grated Parmesan Cheese**
Arugula Salad
Olive Oil**
Black Pepper**
Sea Salt **
Large Bag of Arugula- $3.00
Lemon- $0.50

Shaved

Parmesan Cheese to taste**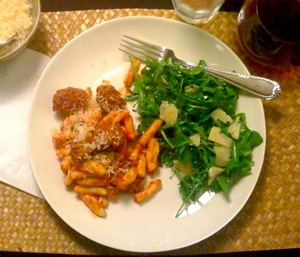 **Click on the title of the recipe to see it individually.

Marinara Sauce
Coat the bottom of a large deep pan with olive oil and heat over a low flame. Thinly slice one onion. Toss onion into the oil and slightly turn up the temperature.  Chop 4-5 large cloves of garlic. When onions begin to turn transparent toss in garlic. Roughly chop a handful of fresh basil and add it to the mixture. Add a hearty dash of red pepper flakes. Stir continually so garlic doesn't burn (this will make your sauce bitter). Sautee mixture just until onions and garlic begin to slightly brown.
Add one can of Italian Spiced Tomato Paste, stir together. On low heat continue stirring for 5 minutes (make sure it doesn't burn). Add a large can of whole tomatoes and mix all together. Mash or cut up tomatoes while stirring. Add a large can of pureed tomatoes and stir well.
Over medium heat, constantly stir, and add a quarter cup of red or white wine. If you don't have wine add a capful and a half of balsamic vinegar. Add a hearty sprinkle of sea salt and black pepper, stir it in. Allow to cook for a 10 minutes without a lid, taste and determine if you need to add sugar. Adding sugar curbs the bitterness of the tomatoes.  Add sugar to taste (from one tablespoon to 1/8 of a cup) gradually so it doesn't get too sweet.
Add more fresh basil and red pepper flakes to taste.
Lower the flame, put on the lid of the pan leaving a little corner open so air escapes. Stir every 5 or 10 minutes. Let it cook for at least 45 minutes, then put lid on all the way and let it sit 15 minutes with the heat off. Serve when ready. You can make sauce the day before (tastes better the next day anyway).

Meatballs
Any ground meat will work (beef, turkey, chicken, veal, pork).
Take 1 1/2 lbs of meat and place in a large bowl. Finely mince half a large onion and two to three cloves of garlic. Chop half a cup of fresh parsley and add to meat. Add half a cup to one cup of plain breadcrumbs, sea salt and black pepper. In a separate bowl beat 1 egg and add to meat. Squish everything together. If the consistency is sticky then move on, if it still isn't sticking together add another egg and breadcrumbs until you reach desired consistency. When sticky, add 1/2 cup of grated Parmesan and thoroughly mix in. Roll meat into 1 1/2 inch wide balls.
Take a large frying pan or skillet and cover the bottom with extra virgin olive oil and heat.  At medium high flame brown the outside of the meatballs but do not cook them all the way through (about 10 minutes). Once browned, you can add the meatballs to the pot of marinara sauce as it's cooking (not recommended with chicken or turkey since it affects the taste of the sauce) and let them finish cooking in the sauce.  Otherwise add two-three ladles of sauce into the skillet.  Lower the heat to very low, put on the lid completely, they will steam the rest of the way. Let cook for another 10 minutes (making sure they don't stick to the bottom of the pan), cut into one of the meatballs and make sure they are thoroughly cooked.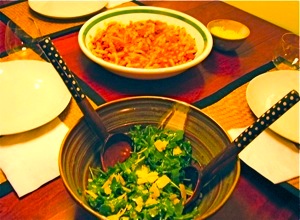 To Finish:
Boil water in your largest pasta pan. Add salt. Use a cavatelli, rigatoni or penne. By using a short pasta, you will get more mileage out of your sauce and therefore feed more people.  Spaghetti and other long pastas absorb more sauce so you'll feed less people. For the amount of sauce in this recipe, you can make up to 2 lbs of pasta.
This is a good amount for 6-8 people. If you're making less pasta, you'll have leftover sauce to freeze.  This sauce freezes well and keeps for several months.  Put in air tight container and wrap well.  You can freeze individual servings or larger amounts.
As the water's boiling prepare salad and turn the sauce back on.
Shave Parmesan. Use arugula (rocket or baby), wash and dry, put into serving bowl. Take 1/8 of cup of olive oil and half a lemon juice, salt, pepper. Whisk dressing, toss on greens, sprinkle the Parmesan shavings.
Put pasta back into the pan and ladle in some sauce to taste, and stir so the pasta doesn't stick together.
Serve and ENJOY!
|
Print