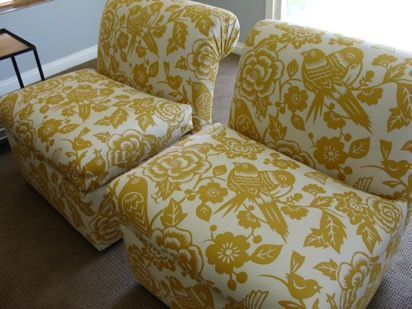 We all know that finding the perfect furniture that also fits your budget is a daunting task. But if you keep your eyes peeled and your mind open, you may just end up with a savvy and satisfying purchase!  Out dear friend Melissa did just that – read on for more info on how she got a designer look at a down to earth price.
Melissa is one of our favorite Fab & Fru gals.  She recently moved into a new home and needed to buy new living room chairs.  Mel had been eyeing some fabulous slipper chairs at Wiliams-Sonoma Home– at a humdinger of a price tag!  Depending on the fabric you ordered them in, they cost between about $900 – $2250 – PER CHAIR, plus shipping!
So, Mel went on a mission to find a similar look for less.  After all, what woman in their right mind would pay $4500 for two chairs when she has 2 kids and multiple cats roaming the premises?  Mel's ideal was to find some affordable yet good quality chairs on craigslist and then recover them with unique fabric.  An admirable idea – but was it realistic?
When she first began her search, she came across a pair of chairs posted for $100 each, but that was a little pricey for her plan.  Her search continued…  Mel's strategy was to find a balance between the time and energy it takes to find the best deals on craigslist and the urge to jump at something great even if it was out of her budget.  A month later, voila, the same chairs were listed again, and this time they were marked down to $50 each! She made her move and drove to the seller's house to pick up her fabulous finds. (Only one chair at a time would fit in her trunk, so she made two trips to pick up the chairs – but saved big on shipping fees – now that's Fab & Fru!)
The chairs were covered in a navy pattern – nice, but not her cup of tea.  So Mel did her homework and found a pattern she loved at a local fabric store.  As with even the best laid plans, Mel soon discovered she had a little problem that could put a hitch in her cost saving plan.  The fabric she chose had a complicated pattern. She originally needed 8 yards of fabric at $22/yard – but as the reupholstering got underway, they realized they needed more fabric to match up the patterns precisely.  After another 6 yards later, the chairs were perfect. Lesson learned: she could have cut costs even more by going with a solid or simpler pattern. But then again, her butterscotch birds are so fabulous, in my opinion it was totally worth the extra money!
Total cost per chair: $500
($50 to buy each chair, $150 for fabric, & $300 for labor)
Not bargain-basement cheap nor hassle free, but for a fraction of the price of one chair from Williams-Sonoma Home, Mel got two quality pieces she will have forever.  In addition, because she didn't buy from a mass market store, she was able to get custom pieces made in unique fabric.  Mel's determination (coupled with great sense of style) paid off and she got a little bit of living room luxury — for less!
|
Print