Tips to Score Designer Bargains
by The Dress Recycler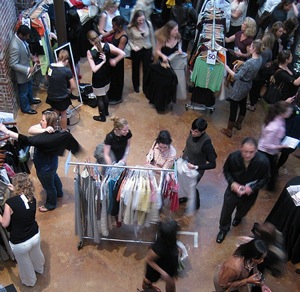 Does the idea of going to a sample sale conjure frightening visions of fighting with frugal fashionistas for the last pair of discounted Gucci sunglasses?  Or maybe your soul brims with excitement at the thought of a warehouse filled with irresistible "irregulars" softly calling your name.  Whether you find them intimidating or inspiring, read on for Sample Sale Savvy courtesy of our bargain-hunting friend,The Dress Recycler!
As you've probably guessed, designers create a line of clothing for each season. Samples of all garments are produced, and sent from the factory to the designer for approval.  Styles are chosen and more samples are made until the color and fabric are just right. The samples (whether chosen for the line or not) are kept for reference, just in case they need to be referred to in the future. After a few seasons, the samples aren't needed anymore. That's why clothing companies have "sample sales"…. Other garments also make it into sample sales such as leftover production that got returned, sent back for damages or garments that just didn't do well in the stores. Bottom line–their loss can truly be your gain!
Everyone likes a story about the underdog coming out on top – sample sales give the rejects a chance to be the winners! We're not suggesting you wear something hideous or damaged just to save money on a brand name – because of course that's not a bargain at all…  But what if your keen eye and stoic patience found a fabulous cashmere sweater that was a slightly paler shade of blue than the designer intended?  Or a purse where the stitching was not up to snuff — but even you couldn't tell? Sample sales are full of these sorts of victories!






WHERE TO FIND SAMPLE SALES
Look for sample sales in larger cities where most fashion companies are based – we're talking primarily New York, Los Angeles, Chicago and Miami.  If you don't live near one of these metro areas, now's the time to reconnect with urban-based pals who might be persuaded to pick up a steal for you the next time they go!
If you do live near one of these booming metropolises, you'll frequently see ads for sample sales, often enticing you with promises of '40% off all shoes" or "20% of all tops".   I don't know about you, but unfortunately 40% off of $498.00 doesn't help me. Neither does 20% off of a $375.00 jacket.  Never fear, there are deals to be had for the rest of us  – but, like any game, you need to know the ground rules before playing.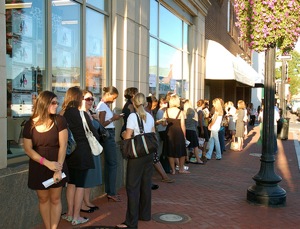 |
Print
Pages: 1 2