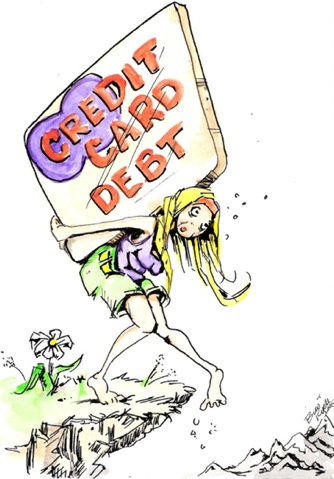 Illustation courtesy of i-heart-god.com
It's one of the great American past-times: ringing up Credit Card Card Debt.  Many of us find ourselves in over our heads and have no idea how to get out!
Remember our old friend Clarky Davis, aka The Debt Diva? Clarky is a spokesperson for Care One Credit Counselors.  After digging herself out of credit card debt, Clarky turned her financial life around, got a counselor certification from the Institute for Financial Counseling and made a career out of helping other divas deal with debt. Here are some Fab & Fru tips on managing credit card chaos — from a woman who knows all about the detriments of debt!






Know What You Owe
Getting organized is the first step towards getting out of debt.   This means obtaining copies of your credit report. As painful as it may be to see it all there in black and white, at least you'll know where you stand and where to get started.  lt;em>*Warning: You may want to be accompanied by a big glass of wine when you open these suckers up – it might not be pretty…
There are three major credit reporting agencies: Equifax, Transunion & Experian.  We recommend that you get a credit report from each of them –there may be discrepancies between them that you'll need clear up.
The best place to get started is www.annualcreditreport.com.  Clarky's in-the-know tip is that you can get one annual free report per agency! So once you have yourself all straightened out, she suggests staggering these freebies throughout the year to keep tabs on your credit history.  However, when you're just getting started on your road to financial rehab, you MUST get all three at once so you can start off with all the info you need.
Credit reports can be depressing but let's remember why they are so important to us – they affect all sorts of fun plans we have for the future!  *Your credit score impacts everything from buying a house to buying a car, to getting a job, so keep your eye on the prize(s) and get it together! You may be drooling at the Barney's window but is it really worth maxing out your credit card to buy that cute top?  What do you really want – that blouse now … or a house later?

What's Your (Credit) Score?
If you thought that you would stop getting graded once you left school, think again!  Your all-important credit score is your ticket to getting (or not getting) credit.  You may have heard the term "FICO score" tossed around – this is just another name for your credit score.  Most lenders compute your credit score based on a formula from the Fair Isaacs Corporation, thus the nickname FICO.  The range is anywhere from 350-850, and here's how they generally rate your score:


Excellent: Over 750
Very Good: 720 or more
Acceptable: 660 to 720
Uncertain: 620 to 660
Risky: less than 620
The lower your credit rating, the harder it is to get credit and financing.  And even if you can still get credit, it will be more expensive for you to borrow money (ie: a higher interest rate) than someone with excellent credit, because you are a higher risk.

**Keep in mind, negative credit information can stay on your credit report for seven years, so once you've gotten in trouble you can rehabilitate your credit score, but it will take years to do so.
After getting your credit reports, the next step is determining if you need professional help or not.  Some of us will be organized and responsible enough to make a get-out-of-debt plan on our own.  For the rest of us, sometimes calling in a pro is the way to go! There are a few options out there depending on your predicament. The Debt Diva walks us through the basics…
|
Print
Pages: 1 2