Sangria is my favorite summer drink, and not just because it is inexpensive to make.  The fruity, bubbly beverage is a special treat, and that is what the focus will be on!  Trust us – no one will be thinking about the frugal price tag – just the fabulous taste!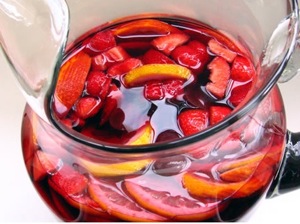 I love "Real" brand Sangria – this is my base.  The fruit infused red wine goes a long way, because you stretch it with soda and juice.   You can usually buy large bottles of  "Real"
for under ten bucks.





Just chill the Real Sangria, along with some Seven-Up and Orange Juice.  Slice up some fruit – whatever is not too pricey – oranges usually work well (keep the rind on so people can easily pull them out and eat if they want to).  Mix the chilled beverages together in a large punch bowl with the sliced fruit, and serve – that's all there it to it!  Nobody needs to know (unless they too have read this article) that you used a cheap store bought base for your beverage – all they'
ll know is that it is delicious!  And the red color will fit in perfectly with your Independence Day color scheme.





|
Print