If you have a large group to feed, you can't beat pasta salad.  It is a frugal, filling crowd pleaser!  The key to feeding a large number of people on a budget is always to make the main ingredient inexpensive, and use pricier ingredients to doctor it up.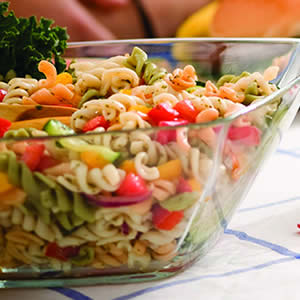 Sometimes all an old dish needs is a new twist.  For instance, ever thought about how pretty pasta salad looks with all the cut up veggies in it?  Sort of reminds us of…firecrackers, actually!  So, bust out a big bowl and set a sign next to it saying "Firecracker Pasta Salad" to give new life to an old fave.





Again, I turned to my mom, Nancy, for her easiest recipe.  All you need is corkscrew pasta, some Newman's Own Vinaigrette Salad Dressing, and diced up veggies of your choice.  As it is 'Firecracker' salad I would try for a mix of bright colors and shapes – shredded carrots, round cherry tomatoes, diced onions, and some diced up multi-colored bell peppers, add some cucumber circles, with some shredded cheese (or tiny mozzarella) thrown in.  You can use whatever appeals to you, just make sure it is colorful enough to live up to it's new title of Firecracker Pasta Salad.  And be sure to use multi-color pasta to liven it up and mimic the festive colored spirals of fireworks!
Mom's signature twist is that she always stirs a pinch of sugar into the salad dressing before pouring it over the pasta – start with a little and add to taste.  It gives it just a little extra flair.  Basically, by giving an old stand-by a new name, you have a holiday themed side dish without any extra work at all!  If you have some crinkle cut colored gift pack laying around, just bunch it up around the bowl for an extra 'fire-y" effect, and enjoy!





|
Print