Ok, so…Jell-o.  I know, I know – not the first thing you thought of when you were planning your July 4th menu?  I swear this childhood favorite can be a treat for adults and kids alike this summer.  Simple switches like ditching the ring mold for a pretty glass bowl can leave you with a posh look for pennies.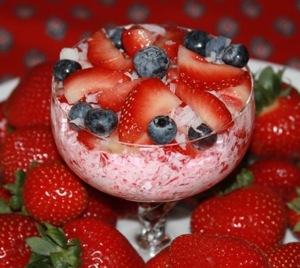 My mom, Nancy, made a particularly yummy version, which she always served chilled in a beautiful crystal bowl.  We also love serving it up in a champagne glass.  Wrap your mind around this – a glistening, jewel –toned concoction swathed in Waterford crystal – what could be more elegant?! What a perfect blend of Fabulous and Frugal! Try this blast from the past for a refreshing Fourth of July treat!






Ingredients:
3 packs strawberry gelatin
3 cups boiling water
2 cups cold water
One 9 ounce container Cool Whip
Sliced strawberries, blueberries and shredded coconut
Just dissolve the gelatin in the boiling water.  Then add the cold water.  Chill until only partially set (just beginning to gel – this can take a couple hours – check it every half hour to be sure).  Then whip the gelatin with electric mixer on low for about 15 seconds until frothy, and then beat in the cool whip on low for another 15-30 seconds. Be sure to  use the Cool Whip out of the refrigerator, not the freezer. Put this mixture in a pretty crystal bowl or champagne glasses and chill until firm. Top with sliced strawberries, blueberries and some shredded coconut for a red, white and blue treat that all your guests will devour.
Another reason we love this is because if you are having a big crowd, it can get really expensive to make a huge fruit salad for everyone.  Look, it's just a BBQ – it's not up to you to provide everyone with their USDA recommended serving of fresh fruits and veggies.   This is a fun, fruit-y alternative for all to enjoy!





|
Print