How To Talk About Money Before The Wedding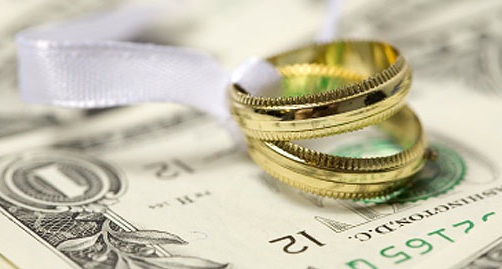 When you're head over heels in love and planning a wedding, all of the talk of your new life together tends to focus on one date in the near future — the big day.  There are endless discussions about the guest list, the cake, the music, the flowers, and of course the fabulous honeymoon you can't wait to take together.  But what you should really be talking about with your honey is … MONEY.
I know, it's not romantic to think about, but the reality is that financial problems are the leading cause of disagreements and yes – divorce – among married couples.  Here are some tips to help you REALLY plan for happily ever after!

Will Your Big Day = Big Debt?
As we wrote in our Tying the Knot on a Shoestring article, your big day can put you into big debt before you even say "I Do!"  We cannot implore you enough to stop and think about this before you spend.  Keep this simple rule in mind: you should NOT go into debt to pay for your wedding day or honeymoon.  Start off on the right foot – give yourselves the gift of financial stability and have a wedding you can actually afford!

Communication
With all the fun and excitement that surrounds getting married, many of us don't really think about the big issues that will be facing us after our wedding day.  It turns out that money isn't actually the root of all evil, but lack of communication about money is where couples get into trouble! True, it's not as much fun as discussing hors d'oeuvres and bridesmaid dresses – but you owe it to yourself, and your partner, to make sure you're both on the same page when it comes to building a financial future together!
Every now and again my husband and I go out for sort of a financial date night (I know, isn't marriage sounding exciting?!) We go out, have a glass (or three) of wine, and relax. Try and have a nice night out first and foremost – this should be a meaningful conversation, not an argument, though of course some financial conversations may get a bit spirited!  If you're just about to get married, believe me – there will be plenty of time for arguments down the road, ladies!
Getting married brings up a host of questions with financial consequences. For example: What are OUR assets & liabilities? Do WE rent or own? Do WE want to have children? If so, do WE want to send OUR kids to public school or private? How much debt do WE have? What is OUR attitude towards giving to charity? What are OUR spending habits? What are OUR long-term financial goals? When do WE hope to retire?  And those are just a few that spring to mind.  That's right – all of these money matters become things you and your sweetie need to discuss and tackle – together.  If you don't, these are the very issues that can ultimately drive you apart.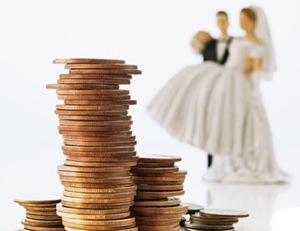 Organization
You don't need an MBA to know that a business owner would never leave lifeline tasks like bill paying and taxes to chance – and neither should you. Get organized and clearly delineate who is paying what and who is handling what to prevent future arguments. Organization will definitely help to avoid arguments that stem from, "hey I thought you paid that bill", or the truly worrisome, "why are you using our mortgage statement as a drink coaster?".  So many of us bicker over misplaced bills and paperwork strewn all over the house – pick a place – one place – and keep the mail neatly arranged to prevent squabbles!

House of (Credit) Cards
So, you've gone over your gift registry with a fine tooth comb and made sure all the details are correct-down to the last butter knife-, but have you taken that same amount of care when reviewing your credit reports? Or have you and hubby-to-be even gotten copies of them??  Knowing your credit scores from the get-go as well as having a current record of your credit reports are key points to starting off on right financial foot — even if there are issues that must be dealt with!
|
Print
Pages: 1 2