I love cheese.  I could eat cheese and crackers for basically every meal of every day.  So, of course I thought it would be fun to incorporate my beloved bleu cheese into a Fourth of July color schemed meal.  The problem is, fine cheeses can be so darn pricey.  Our solution?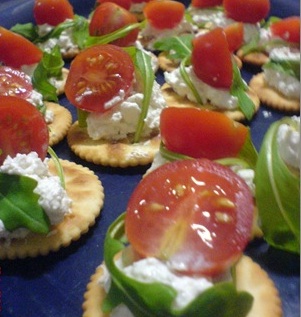 Rather than buying hunks of it and letting people lop off as much as they want, prepare it for them in advance.  All this means is buying a creamy blue cheese, spreading a little on a cracker and topping off with a half cherry tomato.  Because blue cheese is strong, a little goes a long way. I always see the pictures on the cracker boxes of elegantly prepped crackers with a just a dab of cheese and some sort of veggie on top – but how often do you actually do it?
Again, by making some ordinary ingredients look special, your guests will feel well cared for, and you will love the feeling of all that money still resting peacefully in your wallet.   What an elegant twist on the red, white and blue color theme – and a way to stretch a fab ingredient into a fru treat!





|
Print