Without Flushing Money Down the Toilet
By Brandi Savitt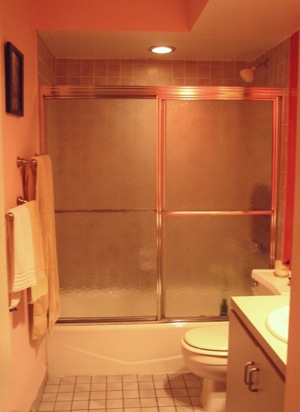 Ever since I moved into my co-op, I have fantasized about gutting my boring 1980's bathroom, and glamming it up with new fixtures and beautiful tile.  At one point, I even painted the walls a dark rose with hopes of adding a little life to my aging loo.  But as much as I have always hated that room, for years I have put the pricey plans for my grandiose project on the back burner.  That was until my downstairs neighbor called me one morning as water poured from the pipes behind my rotting shower wall, gushing through my floor  — and his ceiling.  I had no choice.  Financially 'flush' or not, the time had come to renovate my bathroom…
Renovating a room in your house is exciting yet can be overwhelming- not to mention expensive!  Most of us can't afford to work with an interior designer to help us realize our vision, but that doesn't mean that you can't find what you want and get the most bang for your buck on your own.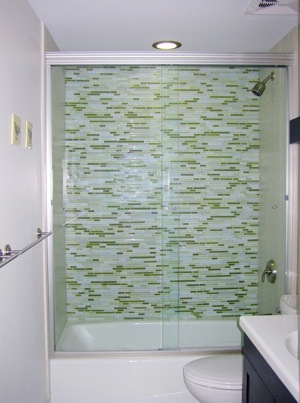 **To help ensure that your renovation is a Fab & Fru success YOU MUST DO YOUR HOMEWORK.  It may take extra time and work on your end, but here are some key steps to help you get your dream look for less!

Where Should the Glamour Go?
What is the focal point of your space?  Get to know the shape of the room that you're renovating.  When you walk in the door, what do you see first?  This area is usually the focal point of the room, and if you are on a limited budget, that's where your money should go.  This one tip alone can save you tons of money, and give you a starting point for your whole project.
Example: I originally wanted to tile my bathroom floor with an intricate mosaic pattern, and then do the rest of the bathroom in simple shades of white.  I also fell in love with a gorgeous vanity that I wanted to design the room around.  However, when you walk into my bathroom, the first thing you see is the wall that runs the width of the tub nestled at the end of the long narrow room.   I realized that the back wall is the focal point of the room.  The vanity only fits on the sidewall, and the room is too narrow for anyone to ever get a detailed view of it.  Furthermore, if I want to make the room look bigger, I shouldn't draw attention down to the floor, but forward and up!

This realization completely changed my original idea and helped me narrow down my concept.   That back wall is where my 'glamour' should go, and where I should play with tile.  Of course, everything else should coordinate with style and feel – that's what we at Fab & Fru calll 'associated glamour'.  You don't have to spend a fortune on every detail to get the look you want!
|
Print