A Grocery Shopping Trick of the Trade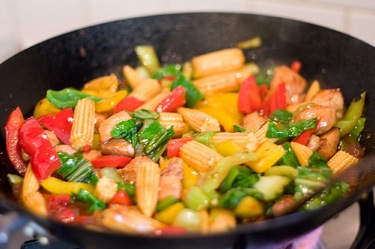 I've been reading up lately on how to save money while grocery shopping.  The one tip I keep coming across is to look to the top and bottom shelves to find the deals!  Pricier goods are placed at eye level in the grocery, and big companies pay a huge premium to make sure that you see their items first.  Yesterday, I tested out the theory for myself, and I have to say– it was a Fab & Fru victory!
I will often dash into the store and pick up a prepared marinade to throw over chicken – easy for dinner and even the boys will eat it.  The marinades I usually grab are – you guessed it – the ones at eye level.  I had never bothered to look on the top shelf (or the bottom one for that matter).  Yesterday, I gazed upward and my eyes fell upon a can of Contadina Sweet and Sour Sauce.  It was packaged in a non-descript red can- much less outwardly enticing than the bevy of bottled marinades at eye level and less expensive than many of them too. $2.29 a can!
I decided to put my research to work, and I bought the sauce!   Contadina even provided a delish recipe under the label that I doctored up by adding some chopped red pepper and onions to the sauce.  I poured the mixture over four chicken breasts, covered the pan, and baked it at 350 for 45 minutes.  It was UNBELIEVABLY delicious – more so than pricier sauces I have bought in the past.  And – to add to the glory – it was actually good for you!  With only 40 calories per serving, 1 gram of fat and no cholesterol, I was really feeling it.
So — the next time you go grocery shopping, take a second to stretch your neck and you just might end up stretching your dollars too!
|
Print