Are Bargain Brands Worth the Savings?
by Andrea Moya– August 17, 2009
I recently adopted two lovely cats, Tito and Spider, and keeping them fit and healthy is top priority.  But my first trip to K-mart revealed a nasty reality about popular cat food brands. Although cats need a diet high in meat, many cat foods either don't contain actual meat or don't use it as the main ingredient! If I bought Friskies, I was essentially feeding my cats corn! Meanwhile, the beautifully packaged, meat-packed, holistic brands seemed prohibitively expensive. What was I supposed to feed my cats?
After consulting New York veterina rian Dr. Jonathan May and reading countless consumer reports, I realized that the key is to know what you're looking for when shopping for your feline's food. Being Fab & Fru is about being aware and making informed decisions.  Based on what I learned, I put together general criteria so I can make the best possible choice for both my kitties and my wallet.

Make It Meaty
As Dr. May explains, cats are "obligate carnivores," they need a high level of animal protein to survive. The first ingredient in any cat food—be it dry, wet, or a treat— should be meat. This means look for the words chicken, beef, fish, lamb, or duck by themselves.  Meat meals and broth (like lamb meal or chicken broth) are fine as a second or third ingredient. Cat food should also be low on animal by-products. By-products are everything except meat—bones, lungs, intestines, necks, heads—and generally act as the "meat" in cheap cat foods. Although these may turn up in higher quality foods as well, they should never be the first ingredient listed!
Also, avoid brands that have corn or wheat listed as the first or second ingredient—(which includes popular supermarket brands like Purina, Friskies, and even Science Diet).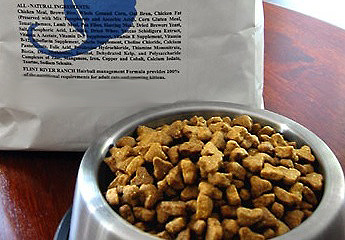 Quantity vs. Quality
While high-quality cat food is more expensive than most supermarket cat food, the higher nutritional value increases your cat's level of satisfaction and decreases his hunger. Before adopting Spider, I fed Tito Fancy Feast wet food in the morning and left him Friskies dry food during the day. By evening he was so hungry I had to give him another can of wet food. When Spider arrived, his former owner gave me half a bag of Innova dry food, a high-end brand with a short and meaty ingredient list. I left the Innova out for them during the day and not only did Tito love it, but at night neither of them were hungry. – If you alternate between feeding your kitty wet and dry food to save money, consider buying a high quality dry food to balance a less expensive wet food.

Where to Buy?
While K-mart, Costco, and Wal-mart will give you the best prices, their selection of quality brands is very limited. When buying higher quality or even medium-range cat food, you will need to visit a pet supply store or shop online.
Here's where we found the best online deals:
Petco.com
PetFoodDirect.com
Doctors Foster and Smith (recommended by a pet industry pro, they only sell their own brand which is designed by vets and follows all the criteria)
These sites all list the ingredients of each product, as well as descriptions and reviews. While the prices might appear better than at your neighborhood store, added shipping costs are definitely something to keep in mind. Seasonal offers and sales do come up frequently and buying in bulk can afford you considerable discounts. !
Fab & Fru Tip: Place an order with other cat-owning friends or family and dividing the shipping costs between you!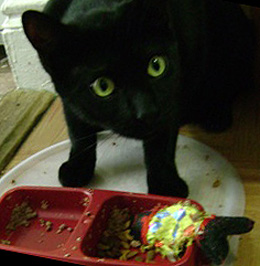 Recommended High-End Brands
Halo
Innova
Wellness
Doctors Foster & Smith
These contain little or no animal by-products and are often grainless. They use rice or potatoes, which is easier on a cat's digestion.

Recommended Mid-Range Brands
Fancy Feast (canned fish flavors)
Natural Balance Ultra Premium
Nutro Natural Choice or Max Cat
Iams Chicken.
While these do contain by-products and often also contain corn and wheat, their meat content is much higher than the cheaper supermarket brands.  Not all flavors are created equal so- ALWAYS READ THE LABEL!!!
|
Print