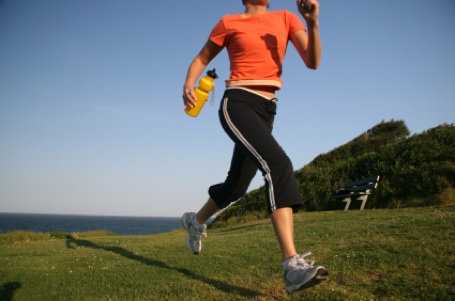 Gym-Free Fab & Fru Fitness
When I joined the cross-country team back in high school, I remember my dad saying, "Unlike other sports you play, running is something you will have your whole life.  It's inexpensive, you can do it anywhere, and it's one of the best ways to keep in shape."   He was right! Though back then I wasn't as concerned with the financial aspects of running, I am now well aware of how Fab & Fru it actually is… And, I am proud to say that I thoroughly enjoyed – and successfully completed – an 8 mile run through Brooklyn this morning!

Why Run
Whether you enjoy working out alone or meeting new people, (there are running clubs everywhere), jogging is an excellent and cheap way to get in shape, lose weight, relieve stress, enjoy the outdoors, increase your energy level, and push your limits.   A consistent running program will strengthen your heart and increase oxygen and blood flow throughout your body – ultimately decreasing your risk for a heart attack.  Combined with a healthy diet, exercise is one of the most effective ways to naturally reduce high blood pressure and cholesterol and improve your immune system.  Like other weight bearing exercises, running also helps to increase bone density, thus reducing your risk for osteoporosis.
HOW TO GET STARTED!

Talk to Your Doctor
If you have a medical condition, are pregnant, or have not exercised in a year or more, it is extremely important for you to check with your physician before beginning any sort of exercise regime!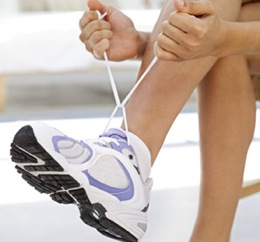 Wear the Right Shoes
Getting fitted for a good pair of running shoes is the most important investment to make in this otherwise expense-free workout.  If you end up running 10k's every weekend, you may choose to invest in some higher end workout clothes, but until then – focus on the shoes!
Take it from someone who's been there. The right shoes are key to avoiding back pain, a pulled muscle, and a broken ankle! They also keep you properly aligned. There are specialty stores in every city where an expert watches the way you run in different shoes and fits you accordingly. Once you know the brand that works for your style of running, you can buy them at a discount online.
*The experts at Jack Rabbit running store in New York City say it is important to get new shoes about every 400 miles. That's a lot of mileage for a $60 to $100 investment!
Fab & Fru Tip: Don't automatically throw away your running shoes at the 400 mile mark.  Just because your sneaks may be too worn out to run the distance, doesn't mean that you can't use them at the gym or for walking…

Keep Your Expectations in Check
Many of us, especially if we played sports growing up, may become wildly disappointed when we realize we can't even run down the street without huffing and puffing.  Remember–the key to getting in shape is to make realistic goals and TAKE IT SLOW!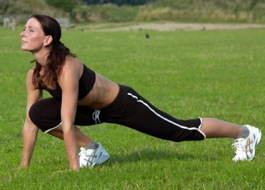 Warm Up/Cool Down
A 5-10 minute warm up and cool down is key to avoiding injury and achy muscles.  Walk briskly or do jumping jacks to warm up your muscles and get your heart pumping.  Stretching before you warm up is NOT recommended!  But once you've gotten your juices flowing and especially while cooling down, stretching is essential for increased flexibility and relieving muscle tension.
|
Print
Pages: 1 2