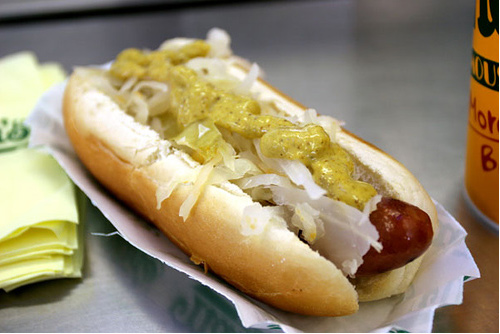 Ingredients:
Boiled Hot dogs
Plain Buns
Deli Mustard
Sabrett's Onion Sauce
Sauerkraut (optional)
Instructions:
The classic NYC cart dog is boiled in water, with onion sauce and deli mustard and sometimes sauerkraut, on a plain hot dog bun.  You can find recipes claiming to replicate the traditional Sabrett Onion Sauce online, but at only about $3.75 for a package, you might as well buy it.  lt looks like even Wal-Mart is carrying it these days!
**If you prefer to go the way of a traditional grilled New York weiner (a la Nathan's) all you need to do is grill your franks instead of boil them, and top with brown mustard and sauerkraut and you are good to go!
|
Print