Styling Shoes for Multiple Seasons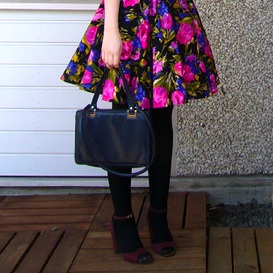 Lucky for us, our good friend Betsy Voccola is a trend setting Senior Designer at Ann Taylor!  This fashion goddess gave us some Fab & Fru advice on how to transition this year's spring & summer footwear trends into multi-season wear.  Since this is primetime for amazing summer sales, the good news is you can buy summer shoes on sale now and actually put them to good use this fall!

The Chunky Strappy Sandal
Recession or not, throw on tights with some warm weather favorites and your summer shoes will double as Fall's highest fashion! By having more coverage on the top of the foot, this versatile style is adorable with or without tights, with a skirt, dress, or pants – at the office or out on the town!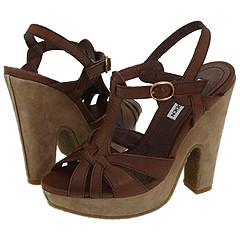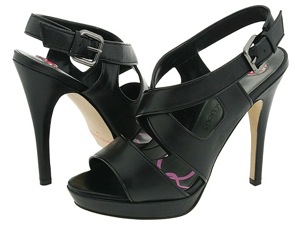 The Peep Toe
Peak-A-Boo! The peep toe has always been a warm weather look, but just watch it make surprise appearances all over 2009 Fall footwear fashion!  If you already have heels, flats, wedges or ankle boots that peep, dress them up with funky socks or tights, and you'll be Fall glamorous and cool weather ready!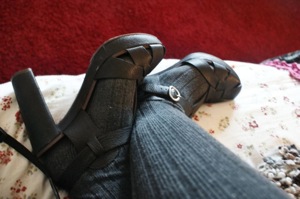 The Ankle Boot
Ankle boots are in!  Now, I know what you're thinking: Who in their right mind (who wants their legs to look good in a skirt) would ever wear ankle boots?  According to Betsy, the booty's rep as an unflattering accessory is merely a misunderstanding. The key to finding a flattering pair of ankle boots is the circumference of the boot in relationship to YOUR ankle – some people look better in a wider cut, while others benefit from a more narrow silhouette.  You must try these girls on in front of a mirror and judge for yourself! One ankle boot is not representative of all booty styles.  If you like this look on others, but never thought they looked good on you, don't lose hope.  Scout out the ankle boot that enhances your specific gams!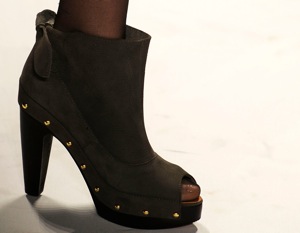 **Fab & Fru Tip: If you're going to wear tights with your ankle boots, elongate your legs by with a monochromatic look and wear tights that are the same color as your boots. We have tried this tip and had an ankle boot victory with it.


Quality & Comfort
When buying Fab & Fru shoes – you should ALWAYS TRY THEM ON FOR COMFORT! If the shoes rubs your feet in the wrong place or you feel unsturdy - DO NOT BUY THEM! Also, if you're buying shoes that you love and you know you will get several years of wear out of, it may be worth spending a few extra bucks for a little quality and comfort.  It is always a good idea to buy more classic trends and neutral colors when trying to stretch your buck longterm.  But if you're itching for something more fun but still versatile, Betsy suggests a shoe that mixes brown and black. Or try playing with textures and patterns like leopard skin and calf hair. Matte and patten leather combos are also fun yet classic looks to play with.  Buying a shoe made of quality leather generally means your shoe will have a longer life, but it also means you will most likely spend more.  If you're not feeling the urge to splurge, consider a less expensive vinyl shoe with a comfortable and durable leather lining…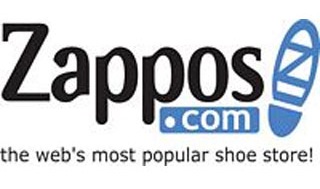 Summmer Deals Now!
The end of summer means massive shoe sales are going on everywhere, and you can get fabulous deals on styles you can wear now – until the first snow!  Betsy also loves to shop at Zappos year round because even though you can't try on the shoes before you buy them, Zappos has a free and speedy return policy!  Brandi likes to try shoes on at a store to get a sense of fit and comfort before ordering online, but she has found that Zappos is often cheaper and carries styles and colors no longer available at stores.  Something to consider, especially when clearance sales at stores are almost always final sales. By the way – all the shoes featured in this article are $80 or less! If the shoe fits — even if it is a summer shoe — you can still wear it right into fall!
Match your fall shoes with fabulous fall handbags!





|
Print