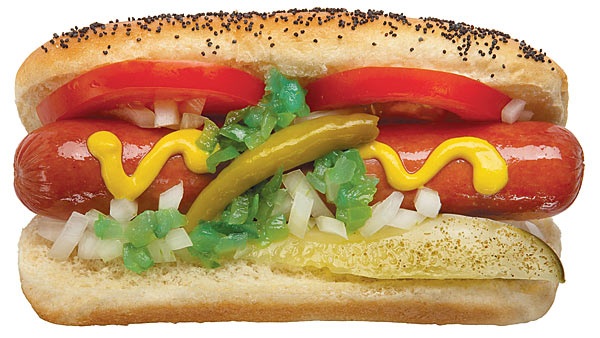 Recipe courtesy of Fluky's Chicago Style Hot Dogs
Ingredients:
Boiled Hot Dogs
Poppy Seed Buns (S. Rosens are a Chicago favorite)
Yellow mustard
Bright green (Neon) sweet relish
Chopped Onions
Kosher Dill Pickle Spears
Tomato Slices
2 Serrano Sport Peppers (they are HOT)
Dash of celery salt
Instructions:
Heat hot dogs in boiling water to 170 degrees.  Put the hot dog in a steamed poppy seed bun.  Pile on toppings in this order: Mustard, Relish, Onions, Pickle, Tomatoes, peppers and celery salt.
|
Print