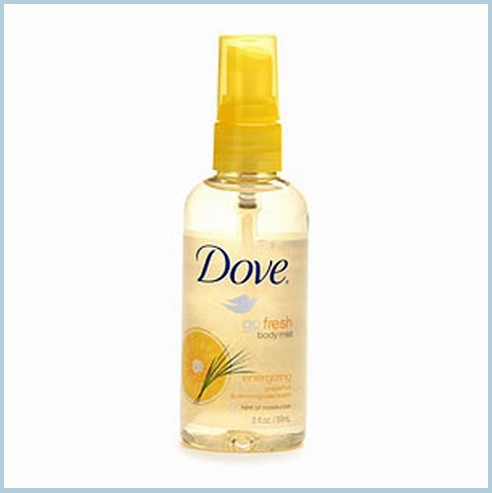 Put Dove Body Mist On Your Shopping List!
My favorite perfume is Annick Goutal's "Eau D'Hadrien" – it makes me feel refreshed and glamorous with each spray.  It's distinctive citrus scent is elegant, refined, and…EXPENSIVE.  And while I happen to think it is definitely worth it to splurge on something that makes you feel that good, I've been searching for a more frugal fragrance to wear everyday that could rival my special scent.  And then, there it was where I least expected it…
I was dashing through the aisles of my local drugstore and passed by the multitude of deodorants and lotions when something caught my eye.  A lemon-y colored liquid in a clear little bottle labeled Dove Go Fresh Body Mist made me stop and think…citrus!  I know, I know – you hear the words "body mist" and you start having flashbacks to big shoulder pads, Dynasty and Impulse body spray.  Believe me, my expectations were low – I was fully expecting it might have the pungent, overwhelming smell of body mists past.  But — hope for a great bargain springs eternal, so I put all those "Designer Imposters" commercials out of my head and stuck the "Energizing – grapefruit and lemongrass scent" with a $4.50 price tag into my cart.
The next morning I spritzed a little of the Dove mist on my arms and was delighted with the results!  Not only did it have a light, refreshing citrus scent, but there was also "a hint of" moisturizer in the spray which made my skin feel great.
So if you're looking for a fresh, citrus scent, but can't afford triple digits to do it, dig up some pocket change and give Dove body mist a try.  For just $4.50 – rather than $100 – the savings alone are invigorating! Don't get me wrong, I still love my luxurious Eau D'Hadrien, but for an everyday spritz, and for a tiny fraction of the cost, this new product from Dove smells like a winner to me!
|
Print