Three Last Minute Ideas for Both Kids & Adults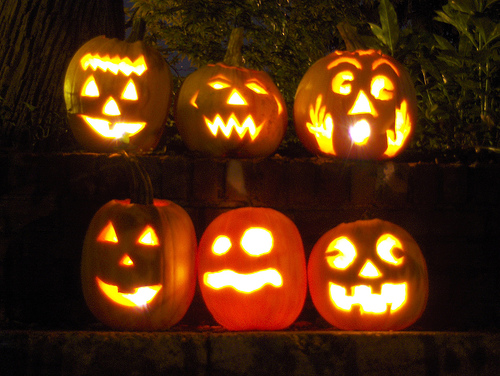 HOST A MURDER MYSTERY NIGHT
Looking for an alternative to going out this Halloween, but still want to dress up and hang out with friends?  Being Fab & Fru, of course you don't want to spend a scary amount of money.  Why not host a murder mystery dinner party?  It's a great way to get a group together – without spending ghoulish gobs of cash!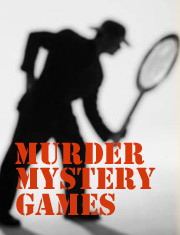 A few years back, a friend & I hosted a murder mystery night, and everyone had a blast!  There are tons of games out there to choose from, including some websites that will put your night together for you. Obviously, some of these sites are more Fab & Fru than others, so make sure to do your research before picking just any game.
I searched online until I found the game, theme, and price point that was right for me and my friends.  I was able to order a used game in great condition from Barnes & Noble for $35.  Keep in mind that most games require eight players, but there are games out to accommodate 6-10 players.
All of the games include a themed menu and recipes.  You can choose to make the suggested meal or create your own menu.  Some people choose not to incorporate food at all, but food and drinks will definitely add to the fun of the night! To make the evening extra Fab & Fru, have each of your guests bring part of the meal – you'll end up with an anything-but-ordinary potluck!
Having played a few murder mysteries in my day, the key to a successful night is to invite people who like to dress up in costume and who will attempt to stay in character all night. Keep in mind that the game can last for hours so make sure all of the players can stay for the entire party.
Check out these Murder Mystery resources to find the right game for you – and have a wicked fun night!
DECORATE YOUR ENTRANCE WAY FOR HALLOWEEN
For over 25 years, my parent's house has been one of the main attractions on the neighborhood trick or treating circuit.  It's not because they expensively decorate the outside of the house, or even that they give out the best candy.  But rather, my mother simply and inexpensively turns her foyer into a thrilling experience that the kids just eat up!
Create a Fab & Fru Haunted Foyer
What You Need:
1)  Scary Music (CD, Tape, or IPod) & a Boom Box or Speakers
2) A Cheap Strobe Light
3) Dry Ice
4) A Stool, a Tall Table, or a few Stackable Crates
5) A Deep Large Bowl & Another Bowl that's slightly smaller
6) Black Fabric or a Black Sheet
7) A Creative Adult answering the door dressed as a Witch, Ghost, or Something Spooky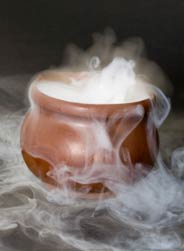 Create a Cauldron on a Pedestal Create a pedestal using a stool, tall table or by stacking some crates, and then stage it behind your front door.  Place the larger of the two bowls on top of the pedestal and drape the black fabric so it covers the stand and is long enough to fall to the floor.  Carefully lay the dry ice in the covered large bowl.  BE CAREFUL: DO NOT TOUCH THE DRY ICE YOUR FINGER WILL STICK TO IT (talk about scary).  Place the other bowl on top of the dry ice.  You want the second bowl small enough to fit inside the larger bowl, but big enough to leave only a small space for the 'smoke' of the dry ice to billow out from  — yet making it safe so the kids hands can't touch the dry ice.  Put the candy in the top bowl.
Music is Key: Position Your Boom Box or IPod near the foyer and a window and make sure it can't be seen.  Crack a window near your front door so the kids can hear the scary music as they approach your house.
|
Print
Pages: 1 2