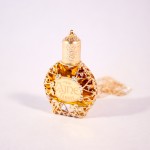 Become a Fan of Fab & Fru on Facebook this week and when we reach 500 fans on Facebook, we are giving away a bottle of Ajne's Printemps to the lucky winner- value $55! (All Fab & Fru Facebook fans are eligible and will be included in the drawing.  The winner will be contacted directly by Fab & Fru via a Facebook message.)
Printemps is a combination of complex florals, white gardenia, South Pacific barks, driftwoods and a hint of flowering lime.  The ingredients in Printemps are known to strengthen and balance the Heart Chakra as well as support the cardiovascular, circulatory, lymph & respiratory systems.
Ajne's fragrances and body care products do not contain any aroma-chemicals or phthalates.  The company chooses to use organic essential oils, a healthier alternative for both the client and the environment.  The healing organic oils found in Ajne fragrances come from sustainable crops grown by farmers all over the world.  Because they are organic, some of these rare and precious oils are worth more than pure gold!
Ajne's flagship store is located on fabled Ocean Avenue in Carmel, CA, our boutique at Bergdorf Goodman, Select Four Seasons Resorts, Planet Blue in Hollywood and online at www.ajne.com.
|
Print