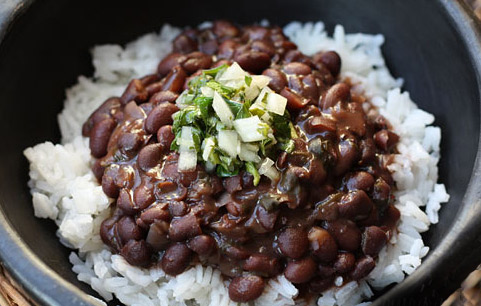 Make sure to have the rice ready beforehand, these beans will be done in just 10-15 minutes. They have a sweet, spicy flavor that is rounded out nicely by salty Mexican cheese.
Serves 4 (side dishes)

Ingredients:
1 1/2 cups of cooked rice, preferably short grain
1 can Black Beans with liquid
1 cup Chicken Broth
1/2  onion, chopped
1 cloves garlic, minced
1/4 tsp allspice
1/4 tsp cumin
Red pepper flakes to taste
Salt and pepper
Olive oil
Crumbled Mexican white cheese (Cotija or Queso Fresco work best), optional
Directions:

Heat a saucepan over medium-high heat and cover the bottom with olive oil. Toss in the onions and allow them to cook until soft- then add garlic. Cook until onions are caramelized and starting to brown. Add beans with liquid and the spices and stir.  Let the mixture cook for one or two minutes.  Turn up the heat and gently pour in chicken broth while stirring everything together. Simmer uncovered until liquid is almost gone.
Serve over rice.
|
Print