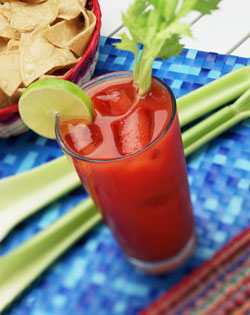 *To make any cocktail extra Fab & Fru, try frosting the glasses in the freezer an hour beforehand.
Makes 2 drinks
Ingredients:
3 oz. of Tequila
1 1/2 cups low sodium chilled tomato juice
2 tablespoons fresh lime juice
1 teaspoon horseradish
1 teaspoon Worcestershire sauce
1/2 teaspoon Tabasco sauce
Garnish with your choice of cucumber wedge, celery stalk, or a piece of jicama
Directions:
Combine all the ingredients. Stir well. Pour into 2 tall frosted glasses with ice cubes. Garnish to taste.
|
Print