Can High-End Designers Deliver Savings?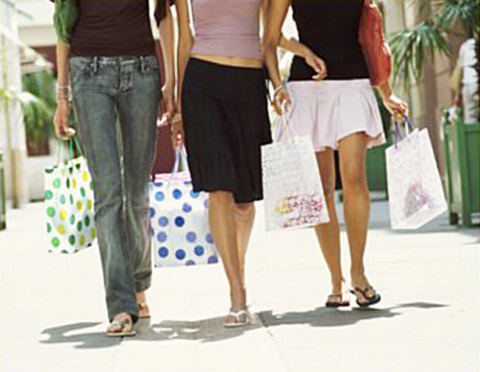 Simply Vera at Kohl's by Vera Wang & Anna Sui for Target
When shopping for designer labels at discount department stores it only comes down to one thing regardless of the label – PRICE.  Even when talking about designers bringing their famous styles to discount land, there are still no guarantees that you will find what you're looking for. But the lure of designer names certainly makes it even more enticing to check out what these stores have to offer!
We asked our go-to fashion expert, The Dress Recycler, to scout the most hyped designer labels currently at Target and Kohl's to see if these brands were really both Fab & Fru.  Here's what she discovered and what you should expect when looking for high fashion at bargain basement price tags…

The Dress Recycler on Simply Vera
Vera Wang is best known for her upscale haute couture wedding gowns and bridal collections.  From having her own boutique in New York to designing gowns for Hollywood's A list actresses, she has now introduced Simply Vera into Kohl's department stores.  And the price point is undoubtedly affordable for the general public.
Her collection this season at Kohl's is classic with easy flowing lines – great for any body type!  If you are the type of woman who likes to wear classic pieces that never go out of style, then this is the right line for you.  The general attitude is for a more professional mature customer – less trendy and timeless with an easy transition from day to night.
In my research, I discovered that while Simply Vera has a large selection of tops, but she has a disappointingly tiny selection of dresses.  However, although there are few to choose from, I am impressed with the great dress bodies that compliment any figure.
Great news: For all of you who prayed for a clothing line that was sophisticated AND affordable, this is your lucky day!    Averaging $34.90 a piece plus all of the clothing is machine washable, Simply Vera is a definite Fab & Fru WOW!
Here are my top 4 picks for Simply Vera
1) Super body style.  Great for ANY body type. Love the front detailing and the price.  $34.80. YEAH!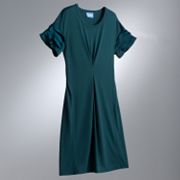 2) What a great dress for Trans. (The transition season between summer and fall.)  Eye catching color blocking that draws your eye down, making you have a longer look to the eye.  Excellent.  $34.80.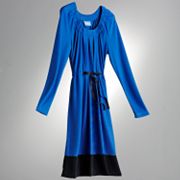 3) Whatever your personal style is; this shawl collar cardigan is magnificent.  I love the length and the drape over the shoulder.  This will give someone who is heavier on the top a very slimming appeal.  Knockout price:  $46.99.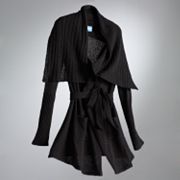 4) What's so great about this satin top is how versatile it is.  This fabric drapes well and the shape is classic.  Not only will you never tire of this piece, but also you will find yourself layering or wearing it with a cinched belt.  $17.60.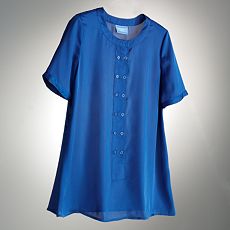 |
Print
Pages: 1 2