Fab & Fru…or Not For You?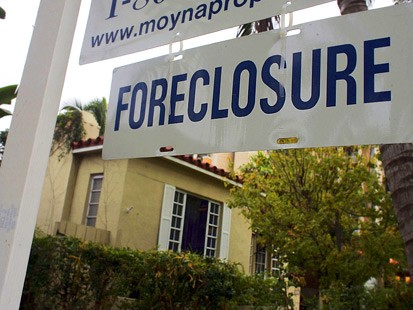 A friend recently told me that she is thinking about buying a house in a "short sale", meaning it is a property in the "pre-foreclosure" process.  Getting a house at a discounted price sounds great, but what does it really entail to buy a foreclosure?
Even though you can't turn on the news without hearing about how many foreclosed homes there are out there, I still didn't know much about how the process works and if a foreclosure is a good investment idea or not. At first glance it seems like buying a foreclosure could be very fab & fru.  Who wouldn't be interested in buying a property below market value? But are these deals too good to be true?
Not surprisingly, the scenarios with the biggest rewards also come with the biggest risks.  It turns out there are actually three different "stages" of foreclosure – each with their own risk/reward profile.
Short Sales/Pre-Foreclosure
The first phase is the one my friend was talking about – a short sale, or "pre-foreclosure." Generally, this stage is when a homeowner is first in default, usually at least 90 days past due with mortgage payments. In these situations, you are making a deal to buy directly from the current owners, as the bank has not repossessed the property yet.
"Short sales" are so named because the buyer pays less for the house than the mortgage is worth, and the lender agrees to forgive the rest of the debt.  Although it may seem weird to be dealing with people who still technically own the house, it can be a relatively attractive option for everyone. You could get a house at a discount, the current owner can get out without the credit stain of an actual foreclosure on their record, and the bank is also happy because they don't have to deal with the time and expense of an actual legal foreclosure.
According to Jason Froelich, a 22 year veteran of the Los Angeles real estate market, there are also downsides to short sales.  For instance, he cautions, there is a much larger degree of uncertainty with short sales than with a regular transaction.  With a short sale, he says that the banks don't usually give you anything in writing, so you need to be comfortable dealing with verbal negotiations.  And short sales can take a long time to close so you have to be willing to wait it out and deal with the uncertainty – in exchange for the potential upside!  Of course, dealing with a current owner who is under great financial pressure and possibly still living in the house can be difficult – you have to determine if it ultimately might be worth the hassle for the right price!
Auction Phase
The second phase of foreclosures is the riskiest, and I would say not intended for the average consumer.  This is the "auction" phase, where the home is put up for auction before the bank repossesses it. It sounds sort of old school – like a trip back to the wild west.  Jason told me that auctions are still generally held on the courthouse steps – literally!  The auction phase can yield the highest return but has by far the most risk.
One hidden risk that Jason mentioned is that if you buy a house at auction there still may be lots of back taxes that you won't know about unless you've really done your homework.  So, an inexperienced bidder could think they are getting a great deal, only to find tens of thousands of dollars in "hidden" costs that they are also responsible for!  Plus, you need to come to the auction ready to pay for the property with cash or a cashier's check – not something the average home buyer is prepared to do! If you are a real estate investment professional – and have a strong stomach – buying at auction may be right for you.  But for the majority of us, the risks here may far outweigh the potential rewards.
|
Print
Pages: 1 2