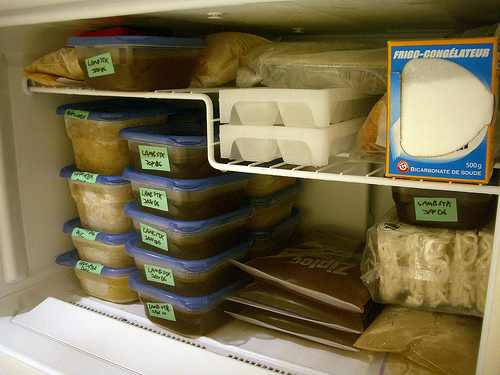 Prepare Your Own Frozen Meals
Most people's freezers are under utilized wastelands filled with some ice cubes, TV dinners and forgotten leftovers frozen more out of guilt rather than the desire to ever eat them.  However, for the busy woman trying to save money and eat well, now is the time to turn your freezer into your own healthy, inexpensive frozen foods section!
Nothing beats a fresh homemade meal, but who has the time and energy to cook every night?  Many of us resort to buying expensive and chemical filled frozen dinners to have on hand in a pinch.  And when we're feeling particularly lazy (and hungry), many of us just pick up the phone to order high calorie, pricey take out. However, with just a little planning and effort, you can not only fill your freezer with the Fab & Fru Pantry Basics, you can transform it from a cold, disorganized storage cabinet into a culinary goldmine.
Prepare to Freeze
Freezing tomato sauce, chicken stock, fish and meats, are all great ways to have go-to ingredients ready to use that will cut down time, waste, and ultimately money in the kitchen.  But by taking it a step further and actually preparing your own healthy, portion controlled (and how about organic!)  frozen dinners, you will always have inexpensive, high quality and satisfying meals at your disposal.  Set aside some time this Sunday, clean out your freezer and cook up a storm.  Amy's Organic Meals, Lean Cuisine, Stouffers and frozen pizzas range from $4.00- $10.00 each!  Cut your frozen dinner expenditures in half by making them yourself and filling your freezer with wholesome, homemade goodness.
Freeze That Thought
Last spring, New York Times columnist & food writer Mark Bittman wrote a fantastic article called Freeze That Thought. Equipped with foods that freeze well, recipes, & freezing tips, his article is totally a Fab & Fru resource and must read!
Invest In Freezer Safe Storage Containers
Sauces, soups, herbs, and even meats freeze well in plastic freezer bags that have a good seal.  However, having efficient, freezer safe stackable containers to store you meals in is essential to avoid freezer burn and increase 'storage life span'. Target has some great deals on sets of freezer/microwave safe Rubbermaid tupperware as well as Pyrex glass storage containers.
Organize & Label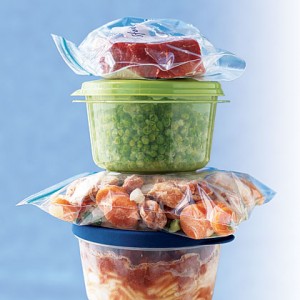 Organize your freezer so things are accessible and easy to find. Write on tape or label stickers to make it easier to re-label containers later.  By taking the time to label your storage system, you will reduce waste and time!
|
Print
Pages: 1 2