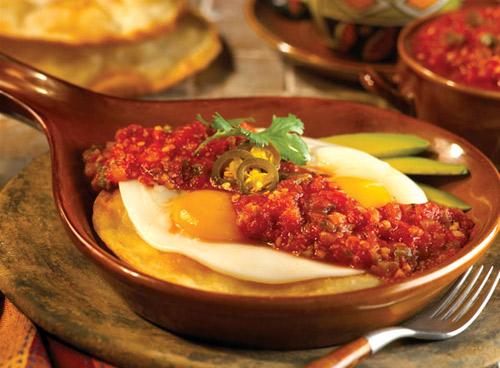 Poached Huevos Rancheros are a delicious twist on the traditional dish, and are the perfect main course to serve at a brunch.
Ingredients:
1 can diced tomatoes
1/2 cup chicken broth
1-2 jalapeños, chopped into rings
1/4 cup chopped cilantro
1/2 small onion, chopped
1/2 green pepper, chopped
1-2 garlic cloves, minced
1/2 tsp of dried oregano
1/2 tsp honey (if necessary)
Salt and pepper
2 tbsp Olive oil
1/2 cup of shredded monteray jack or cheddar cheese
4-8 Corn Tortilla
4-8 Eggs
Directions
Heat a large skillet or sauté pan, with the lid on, over medium heat and add olive oil. Cook onions until they are soft then add garlic.   Cook until the onions begin to caramelize but not brown. Toss in jalapeños and green pepper and after about two minutes stir in diced tomatoes. Sprinkle salt, pepper, cilantro, and oregano into the mixture. Cook, stirring for a few minutes then add chicken broth and bring up the heat slightly. When the ingredients begin to bubble, bring down the heat and allow to simmer.  Salt & pepper to taste.  Cook covered for 10 minutes at a low heat.
While the sauce cooks, heat up tortillas in a nonstick frying pan. Place on a plate covered loosely in foil.
Take the lid off the sauce pan and bring up the heat to a low medium. Near the sides of the pan, use a wooden spoon to make a small clearing in the sauce and crack an egg into it. Do this for as many eggs as you plan to serve. To properly poach the eggs, make sure they are emerged entirely in the sauce.  Cover the pan and cook the eggs until desired consistency- 2 to 4 minutes. We recommend leaving the yolks a little runny.
Place corn tortillas on plates. Use a serving spoon to ladle one egg with sauce over each tortilla. Garnish with jalapeño rings & cheese. Serve with rice & beans.
|
Print