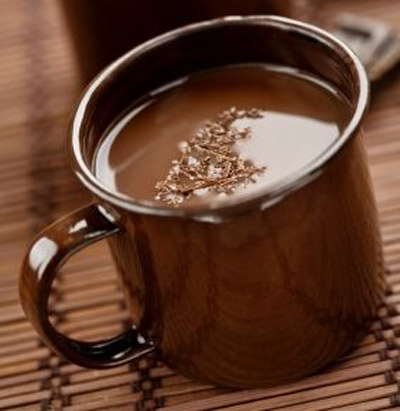 Decadent and spicy, this drink will make you forget it's cold outside.
Based loosely on the Jacques Torres hot coco.
Serves 3-4

Ingredients:
1 bar of Mexican chocolate or Bittersweet chocolate, chopped roughly
2-3 cups of milk depending on how thick you want it (for the richest flavor, use whole milk)
1-2 tbsp honey
1/2 tsp allspice
1 tsp cinnamon
1 tsp cayenne pepper*
*The original recipe calls for ground smoked chipotle peppers and sweet anchio peppers. If you can find them and grind them finely skip the cayenne.

Directions:
In a sauce pan, heat the milk at a low temperature so it does not burn. Slowly stir in the chocolate pieces until they melt, and add the spices and honey.  Simmer (while stirring) for a few more minutes.  Serve hot.
|
Print