Make Your Holiday Shopping Fab & Fru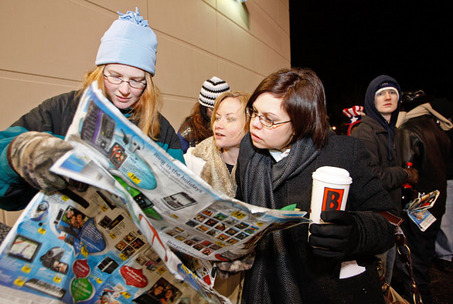 Black Friday, Cyber Monday, or whatever the super sale may be, retailers are doing even more this holiday season to try to beat the recession, entice shoppers to their doors and get them to spend, spend, spend.  If you are one of those brave shopping souls who will hit the stores at midnight for door buster deals and stomach the crowds at 4am for the thrill of serious 'steal', then Black Friday was designed just for you!
Obviously, we at Fab & Fru fully support you in your pursuit of serious savings, but we are obligated to provide a morsel of caution as well.  At it's core Black Friday is much more about you spending money and store owners enticing you to spend even more than you planned, rather than the deals themselves.  Retailers are banking on you getting a thrill from 'winning' the last ZuZu Pet off the shelf, scoring a computer for under $200, or feeling the sudden need to buy a new wardrobe.  The psychology beyond the whole thing is basically: once you've saved on one thing, the more you feel you have to spend.
This is a Fab & Fru danger zone.  And it can go either way.  However, if you want to reap the Black Friday benefits and still come out on top, you must make a list and not deviate at from it! Compare deals online before leaving your house.  Have a plan, stick to your strategy – and, I repeat- do not buy anything off your list!
The most important thing of all to remember is – a deal is not a deal if you never planned to buy the item in the first place.
So don't worry if Black Friday shopping is not for you, I feel confident that if you chose to skip out on the hype, you will not lose out.  Holiday shoppers will have plenty to choose from and enjoy fabulous sales all season long.  But if you don't want to take your chances and miss out of Black Friday deals, take some time to pull yourself together!  Whether you want to put up with all the pushing and shoving that Black Friday brings is up to you, but you shouldn't have to face hand to hand combat and then realize you spent way more than you intended to!
To help keep you focused and get you started planning your sale shopping strategies, we've complied a fantastic Black Friday/Cyber Monday resource guide of resource guides that has links to store hours, deals, tips, and more from retailers to reporters.
Deal Tracker Sites
Gizmodo [Tech deals]
More Great Tips & Advice
Print