Live It Up For Less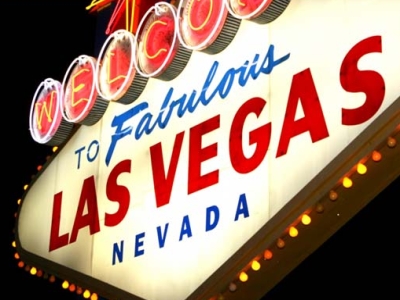 When most people think of Las Vegas, lots of FABULOUS  things come to mind: glowing lights, 24-hour parties, scantily clad women, slot machines, endless buffets, extravagant shows, spas and SPENDING LOADS OF CASH! I have never once associated Las Vegas with the word FRUGAL, but Steph & I are headed to there this week – determined to find the Fab & Fru side of Sin City!
No Time Like the Present
Like the rest of cities dependent on tourism, Vegas has been hit hard by the recession.  This is not great news for the casino capital of the world, but it is for those who can take advantage of the amazing airfare & hotel deals available right now. If you're looking for a fun weekend away with your friends or your honey, there has never been a better time to experience Las Vegas!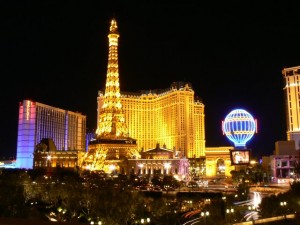 A Fab & Fru Gamble
Remember, Vegas is not ALL about gambling!  The amazing shows, endless choices of decadent food and the spectacle of just walking around are just as much a part of Vegas as gambling.  But a little taste of the casinos doesn't have to be out of the question for the budget conscious.  The key to ensuring a Fab & Fru time in Sin City is to budget yourself a limited amount of 'play money' that you're willing to lose.  Think of it as part of your entertainment funds and adhere strictly to the amount set.  If you're going to lose your shirt in Vegas- let it be by choice!
Travel  & Hotel Deals
The following websites all offer package deals on airfare, hotels, and shows.  And right now, there are even killer last minute deals at some of the finest hotels. Many deals are online only, but it never hurts if you find a hotel deal online to call and to see if there is an even better deal or extra perks that you can get if you book your room directly from the reservation desk.
Join Hotel Mailing Lists
Our Vegas pals tell us if you are planning a trip, be sure to get on the individual hotels email lists – they usually have the best promotional deals!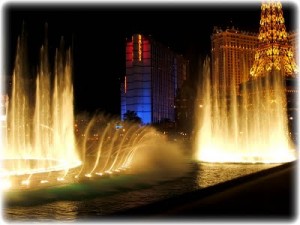 Free Shows
Every hotel in Vegas has it's theme, and just walking along the strip and visiting hotel lobbies will give you hours of FREE Fab & Fru fun.
The Fountain Show at the Bellagio and the Talking Statues at Caesers are two of our favorite freebies!
Cheap Show Tickets
Check out tix4tonight.com – they offer half price, day-of discounts on Las Vegas shows.  They have several convenient locations on the strip – you have to go in person and of course be flexible on what you are willing to see!  But, if you are open to a variety of shows, and waiting until the day-of to see what is available, you could score half price tix!  Added bonus, this website also offers day-of promotions for discount dinners and golf as well!
FAB & FRU VEGAS FOOD FINDS
Of course Las Vegas has become known for its ultra-high end restaurants and endless gourmet buffets.  Rather than blowing tons of money on meals, we asked some local friends to tell us about the hidden inexpensive culinary treasures of Vegas.  Of course you may want to treat yourselves to one glamorous Vegas dining experience, but you can save a lot of cash by jumping off the beaten track and checking out these local gems:
|
Print