Use Time to Save Money!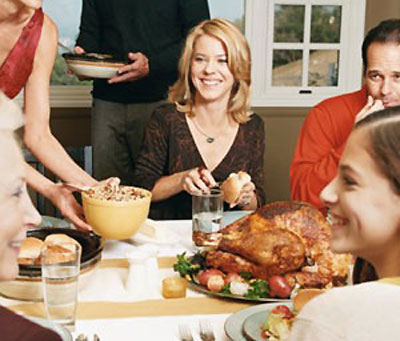 I can't believe that Thanksgiving is only 2 WEEKS away, and I'm the one hosting the festivities this year!  If you're anything like me, you haven't done much to get organized.  But no time like the present to get your checklist in order! There's no need to panic – two weeks is plenty of time to prepare a Fab & Fru holiday while saving money and your sanity!
The Guest List
Though I feel like I have done absolutely nothing, I have actually done the most important thing of all– assembled a stellar guest list.  We have four fabulous friends and their assorted offspring coming over to join David & me, our two boys & our two dogs.  CHECK.
Guess Who's Coming to Dinner?
Now is the time to confirm how many people are actually coming to dinner before you figure out how much dinnerware, chairs, tables and food you need.  Sure, you might think you know, but don't be surprised if people show up with unannounced new boyfriends, girlfriends, kids, random out of town guests, and – I'm not kidding – even pets! I've seen all this and more happen right before my very eyes.  Pre-empt any etiquette surprises and get a head count now so you're not running out at the last minute to buy unbudgeted necessities like food, chairs….or dog food!

Potluck, Please
I once had 22 people over for Thanksgiving and made every last dish myself.. You know what that is called? STUPID! I was running back and forth between my oven and my neighbor's oven and ended up jumping in the shower just as my 22 guests arrived.  -Not very enjoyable & not very Fab & Fru!
Whether you are having 2 people or 22 people, now is the time to sort out what each guest is bringing – and yes they should ALL be bringing something substantial.  It will save the host loads of time and money.  Don't let yourself fall into the "You don't need to bring anything but yourself" mode at Thanksgiving.  Remember, that may work well for a small dinner party, but it is not expected or even appropriate to foot the bill and do ALL the leg work for a large holiday gathering!
A good rule of thumb is to have the host make the turkey and the guests contribute sides and beverages. Oh – and be sure to have your guests bring their own take home containers so you don't end up losing all your Tupperware or having to supply it for everyone's leftovers!
The Right Stuff
Now is the perfect time to make sure you have enough equipment, and that it is all in order.  I just realized I haven't sharpened my knives in years (literally) which is dangerous and ineffective for a big Thanksgiving feast!  Rather than running out and buying new knives or a pricey sharpener at the last minute, I am going to take them to the farmers market today and get it done for cheap.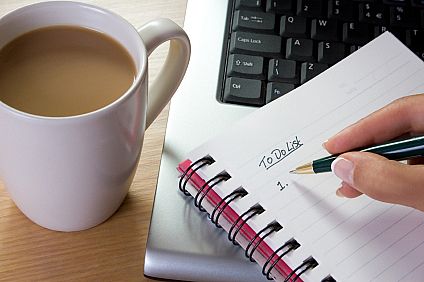 Once you have your guest list, you should also determine how many dishes, baking pans etc that you need. Get organized now and borrow what extras you'll need so you're not running out Thanksgiving morning looking for that perfect oval baking dish or instant read meat thermometer.
How many children are coming? Make sure their parents bring proper booster seats, etc.  You don't want to get stuck rummaging around in the garage for an old high chair while you should be tending the turkey. And make sure NOW that you have enough folding chairs, a big enough table and tablecloth.  If you find you are short, email your guests and borrow everything you can before buying!
|
Print
Pages: 1 2