Cherry Almond Crunch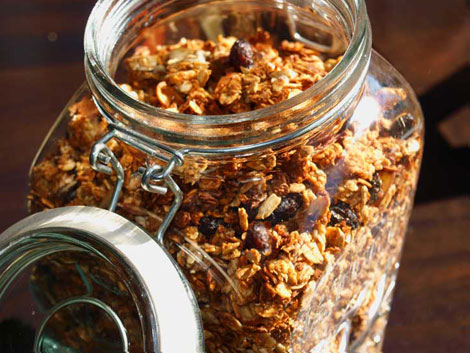 I love granola, but I'm always floored at how much it costs. So, I started thinking… How hard could it be to make my own healthy & delicious Fab & Fru cereal? The answer- not hard at all! By combining your favorite dried fruits, seeds and nuts with rolled oats, you can easily have homemade granola whenever you want for a fraction of the cost price and twice the flavor!
Plus in just one hour, and for about $5 a piece, you can make 6-8 pint size mason jars (about 2 cups) full of homemade holiday crunch! Tie a bow around each jar and you'll have the perfect hostess gift or holiday treat for your co-workers & neighbors!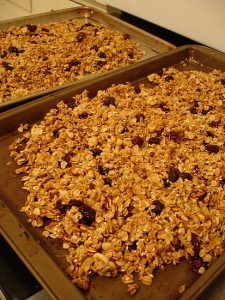 *You can find mason jars at most hardware store. I paid $11 with tax for 12-pint size jars.  That's less $1 a jar!
*Purchase dry ingredients by the bulk to get the best price. Trader Joe's is also a great place to find high quality inexpensive nuts & dried fruits.
Preheat Oven to 350 degrees
Use the convection setting if possible
Ingredients
6 Cups of Rolled Oats- (do not use quick cook)
1 Cup of Shredded Unsweetened Coconut
1 Cup of Unsalted Roasted Almonds
1 Cup of Unsalted Pepitas (pumpkin seeds)
1 Tbs of Canola Oil (optional)
1 to 1 _ Cups of Dried Cherries
1 to 1 _ Cups of Honey (I don't like my granola too sweet so add more honey to taster for extra sweetness)
1 _ tsp of Vanilla
1 _ tsp of Cinnamon
1 healthy pinch of Sea Salt
In a large mixing bowl combine oats, coconut, almonds and pepitas. Once evenly distributed, sprinkle in cinnamon, vanilla, sea salt- and stir. While stirring pour in the honey & canola oil and mix together everything evenly distributed and all ingredients are lightly coated.
Spread the granola evenly onto 2 baking sheets and place into the preheated oven. Bake for 15 minutes at 350 degrees and then remove the granola from the oven toss or stir to avoid the bottom from burning. Put the pans back into the oven for another 15 minutes. The longer the granola bakes without burning, the crunchier it will be.
Remove the granola from the oven and evenly mix in the cherries. Let the cool before storing in an airtight container.
|
Print