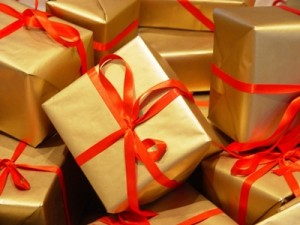 Our Fab & Fru Online Faves Under $50
We've looked all over to find original & foolproof gift ideas just for you (and us!). From $3 to $50, our gift guide this year is geared to those hard to buy for but gotta love 'em people in our lives. Our gift ideas range from our favorite online specialty shops to our top picks for gift cards. Whether you've been naughty or nice, keep checking this list and check it twice… You just may find some last minute Fab & Fru special deals and giveaways- just in the 'nick' of time for Christmas!
FUN & UNIQUE
From Domaine547.com:
6 Bottle Felt Wine Mat – $14.00 – This modern twist on wine storage is big on style without taking up a lot of space! Makes a perfect hostess or holiday gift, holds up to 6 wine bottles stacked in a pyramid!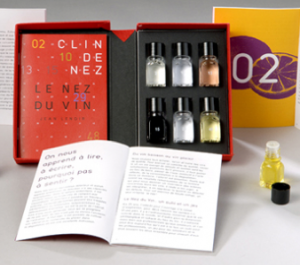 6 Aroma Nez Du Vin Starter Kit – $40 – Perfect intro kit to wine tasting – great for all your friends who keep saying they wished they knew more about wine!
Wine Tasting Party Kit – $24.99 – We love this kit – gives you the perfect start to hosting your own wine tasting party – if you really want to go all out, consider adding a bottle of wine to the gift and get ready to sip!
From Tweak99.com:
Dream Bank – $29.99 – SO Fab & Fru! This bank is also a photo frame – so you just drop in a photo of whatever "dream" item you are saving up for – and watch your savings grow as you work towards your goal! A great daily reminder of why you are cutting back at Starbucks…in order to save up for that new car!
Wall Frame Stickers – $22.99- Perfect for a dorm room, or any room really! These decorative picture frames are actually stickers – so get your fave photos and frame them in seconds! A great way to gussy up a room without spending a mint.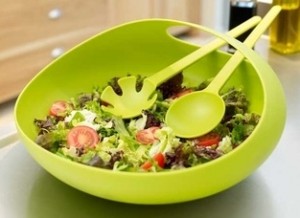 Green Salad Set – $46.99- Steph really flipped for this modern salad set. It is unique, easy to clean and child proof because it is plastic! So good looking, you can leave it on your counter as a fruit bowl when not using it for salads.
Mojito Wallet – $39.99- If Steph's husband is reading this, STOP NOW– because this is what he is getting for Hanukkah! Small, sleek case holds an iPhone, money and credit cards – what a way to keep it all together without a lot of bulk!
From PlasticaShop.com:
Egg Pants – $20 – We LOVE these! Sure, nobody really needs a pair of pants for their boiled egg – but come on – wouldn't you just love to receive one as a gift? These clever little pants will dress up your table and make all your breakfast guests smile!
Garlic Crusher – $25- Not sure how we lived without this! This little rolling pin easily crushes garlic without a big mess. And the crusher doubles as an odor eating soap when used with water – will rid your hands of that garlic smell in no time. Great gift for the chef in your life!
Paper Party Straws – $3.00 – One of our favorite hostess gifts of the season! At only $3.00 for 50 straws, you will give your host a big dose of nostalgia for small change! We all used to love these striped paper party straws, now you can relive your youth with a brand new set.
Aluminum Ice Spoons – $6.00 – Another great hostess gift! A sleek, aluminum version of the wooden ice cream taster spoons we all know and love. To up the ante on the gift a bit, why not include a gift certificate to Baskin Robbins with it? Yum!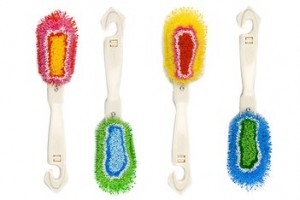 Scrubber Bouquet – (scrubbers with handles are $4 each) – We love these modern, colorful dish scrubbers. For a perfect hostess gift, we suggest buying several of the ones with handles and tying them all together into a "Scrubber Bouquet"! We all know you're not supposed to bring flowers as a hostess gift – but this type of bouquet is A-Ok!
Nut Cracker – $25 – Finally, a nut cracker that won't make you nuts! This clever design works with just a twist of the hand and leaves the mess inside the container.
|
Print
Pages: 1 2