Insider Holiday Tips, Deals & GIVEAWAYS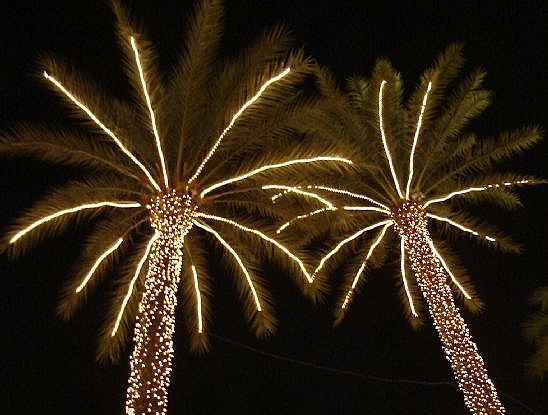 Steph and I were just on KTLA showing Los Angeles how to make the holidays a bit more Fab & Fru!  From entertaining tips on a dime to unique last minute gifts for under $50 plus FIVE amazing "LA GIVEAWAYs", READ ON for DEALS & SIGN UP NOW to automatically ENTER TO WIN- a wine store gift certificate,  a handcrafted sterling silver pendant, a home decorating consultation, an organic candy basket, or an adorable kids outfit!
"Just Desserts!"
Who wouldn't want to feel like a kid in a candy store? We created our own scrumptious Candyland by buying inexpensive old time candy favorites and doctoring up store bought mixes with some Fab & Fru secret tricks. By filling random containers that we already had in the house with colorful candies, we turned old, functional items into fabulous & festive serving pieces!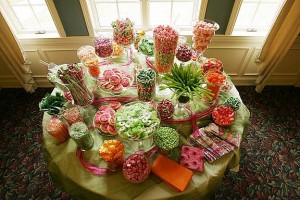 Here are our top party pleasing tips!
-Make Your Decorations Edible – Save money and time by turning brightly colored sweet treats into part of your décor – no need to spend twice for food and decorations when you can kill two birds with one stone!
-Wrapping Paper Runner – Finally, a use for all those wrapping paper remnants you have in the closet!  Tape a few pieces of holiday wrap together and make a cheerful runner for your table just by using what you've got around the house!
-Decorate a "Deconstructed Gingerbread House" – Everyone (especially adults, in our experience) loves to decorate gingerbread houses, but eating them can be messy and not very cocktail party friendly. Our solution? Bake simple gingerbread cookies (and by bake- we mean cut from a roll) and set up a "cookie" bar – let your guests go wild decorating their own gingerbread masterpieces.  Not only a frugal treat, but a great conversation starter at parties!
-Melt Chocolate Into Brownie Mix – aka Brandi's Brownies!  Just buy a store bought mix, but upgrade it by melting a large bar of decadent, high quality DARK chocolate into the mixture!  It will give your Betty Crocker's a sophisticated twist – people will think they came from the gourmet shop down the street – not from a box!
-One Beverage Fits All – You are not required to provide a full bar for all your holiday guests!  We love the idea of having a "one size fits all" drink like Apple cider at your holiday parties – children can drink it cold, adults can drink warmed spiced cider or spike it with rum for an extra kick! -Plus, hot cider will make your house smell divine…
Gift Deals & Giveaways from LA's Best Kept Secrets!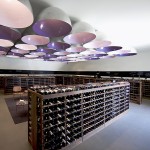 L.A.'s newest & most fabulous wine store!  This is the place to go for More Wine & Less Attitude!
6801 Melrose Avenue (323) 932-0280 Open 7 days and Holidays
-Mention KTLA and GET 10% off all in store purchases thru Sunday 12/20/09.
-GIVEAWAY: Sign Up on Fab & Fru for a chance to win a $25 Domaine LA Gift Certificate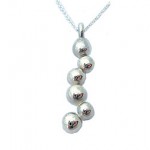 Looking for some Alternative Bling? Jewelry designer, Erik Maes's stunning collection of hand made sterling silver rings, pendants, cuffs, belt buckles and earrings is a total Fab & Fru Find!
-Contact Erik through his website and mention Fab & Fru to get 50% off all jewelry purchases plus special $50 deals on selected pendants & rings!
-GIVEAWAY: Sign Up on Fab & Fru to win Erik's Sterling Silver Seed Trail Pendant!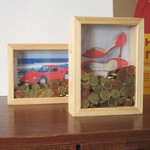 8383 West 3rd Stree Los Angeles, CA
Unique Wrapped & Ready Gifts!  Everything in the store is under $99, but what we feature is Under $50!
-GIVEAWAY: Sign Up on Fab & Fru to win a half hour home makeover consultation with store owner Tara Riceberg!
Delightful Organic Candy!
-GIVEAWAY: Sign Up on Fab & Fru for a chance to win a gift basket full of Organic lollipops, gummy bears and delicious hard candy drops!
Stylish & Comfortable Clothing for kids 0-12 year, City Threads has a line of amazing clothes for boys!
-Deal  – 25% all online purchases- just type in promo code CTFF25.  -Plus free gift wrap through 12/20/09!
–GIVEAWAY: Sign Up on Fab & Fru for a chance to win an adorable City Threads baby outfit!
We hope you enjoy all these exclusive deals and holiday ideas – proof that you can have a huge holiday season on a small budget!  For more Fab & Fru gift ideas check out our gift guide!
|
Print